Desert Camp will be closed from 1 January 2018 - 31 May 2018 due to RenovationsDesert Camp
is situated on a 40 000 hectare private reserve near Sossusvlei Lodge.
Desert Camp`s affordable luxury accommodation comprises twenty units, each with en-suite bathroom, twin beds, fold-out and shaded verandah with kitchenette.
Sossusvlei, with its seemingly never ending sand dunes, is located in the Namib Naukluft Park, the largest conservation area in Africa, and the fourth largest in the world. The dunes are the highest in the world, and reach 300 m, 100 m higher than their nearest rivals in Arabia.
Visitors can view some of the most rare and strange plant and animal species in the world. One of these weird species is the Welwitschia Mirabilis, while other interesting sights are the large lichen fields and Hartmann`s Mountain Zebra.
Facilities at Desert Camp:
Fully Serviced Bar
The unique Desert Camp bar is constructed from carved wood and has a large screen television for viewing news and sporting events.
Swimming Pool
The sparkling swimming pool is the focal point of the central communal area. Cool and refreshing, with an ornamental fountain and water jets and seating down one side to add to the relaxation.
Communal Boma
For those travelling in groups, the boma`s provide an ideal cozy area for everyone to get together for a barbeque or just to socialise.
Adjacent to the swimming pool, bar and public toilets, these areas have preparation, dining and wash-up facilities. Arrange usage with reception.
Ordering meal packs, booking meals at the nearby Sossusvlei Lodge, requesting boma usage, purchasing firewood and firelighters are all done through reception.
Public toilets are available at the reception area.
Accommodation at Desert Camp:
Desert Camp comprises 20 self-catering accommodation units arranged about a central communal area. Each accommodation unit sleeps a maximum of 2 adults and 2 children under the age of 12 years.
Tasteful interior decorating reflects the special hues of the Namib Desert. Each accommodation unit has power points for hairdryers and shavers (220v) in the room as well as an external power point, own barbecue facility and vehicle parking.
Guests are requested to switch all lights off that are not in use in order to save energy.
Desert Camp Activities:
The neighbouring Sossusvlei Lodge Adventure Centre provides various planned activities of discovery into the Sossusvlei area.
Experience the desert beauty from a bird's eye view in a hot air balloon or by aircraft. Take a guided drive through scenic natural beauty in a custom built and comfortable all-terrain vehicle. Partake in an exhilarating guided quad bike excursion on specially laid out trails and really get close to nature.
It is safe to walk freely on the premises provided that contact with wild animals, snakes, scorpions and other reptiles is avoided.
Desert Camp Map: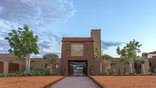 Guest Rating:

(2 reviews)
Amidst the solitary silence of the Namib desert, lies the Sossusvlei Lodge, blending with the environment as naturally as the majestic dunes which encircle it.
From:
R1810.00
per person sharing