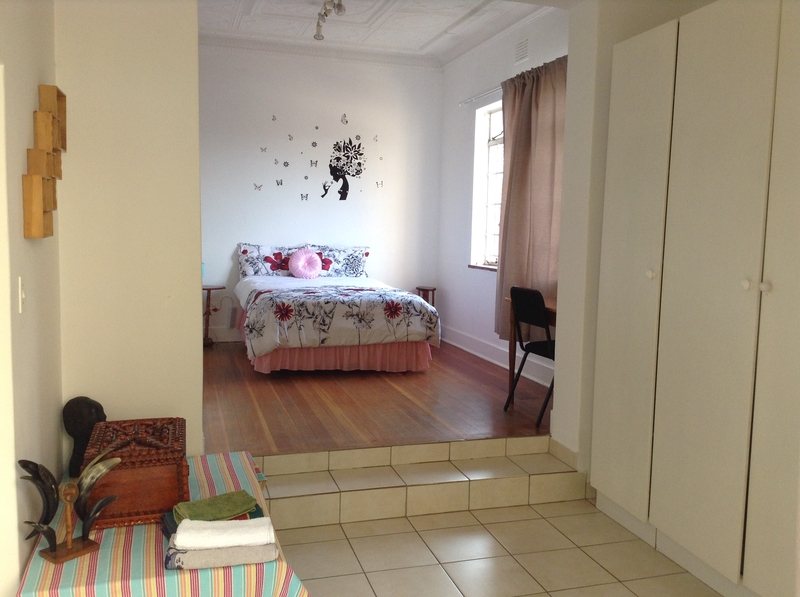 Westmoreland Lodge
is all self catering.
The place is 15 minutes drive away from OR Tambo airport and 10 minutes away from the city centre. It is less than one hour drive from renowned wildlife parks and world heritage sites. Fairly close to a number of local attractions and shopping malls. The ideal base camp to explore the beauties in Gauteng.
We have no swimming pool but we do have a very large garden with a section of it for relaxing, it is fitted with chairs, tables and an inevitable braai (barbecue) area, a wide lounge room with comfortable sofas and a fully equipped open plan, marble topped home kitchen our guests are welcome to use anytime.
Guests have free parking on the premises and free Wi-FI. All cars are parked within the premises. We have an electric gate and electric fencing so their vehicles will be safe.
We have a full time manager on the premises to welcome our guests and to assist them explore the surrounding region. A house keeper who delivers housekeeping services. Guests should feel free to ask if they have any questions regarding their stay when staying with us.
The neighborhood is rather secure and quiet area. Car traffic consists of local residents and a very few more. The road is flanked with ultra-centennial Jacaranda trees delivering an astonishing November flowering. The Eastgate shopping mall is at walking distance and the reassuring presence of the nearby Church of Scientology is always perceivable.
Accommodation at Westmoreland Lodge:
The main house which consists of 5 rooms. One which is en suite with its own independent entrance. Four which share the restroom as well as the rest of the house. Out of these 5 rooms, 1 room belongs to the Manager on site. Each room can accommodate a couple, all beds are Queen size. All in all the main house can accommodate, excluding the Managers room, 8 people.
Building Two - this contains two apartments. Apartment 202 has two bedrooms, each bed is a Queen size, 1 restroom with shower and bathtub, a marble topped and fully equipped kitchenette, built-in wall cupboards. We call this apartment the Family room. It has its own independent entrance and can accommodate 4 people.
Building Two Upstairs - The Garden Room. Same building just upstairs is another one bedroom apartment which can accommodate a couple. Queen size Bed, en suite, has independent entrance, built in wall cupboards, a wonderful view of the city and the garden can be seen from this room. It is comfy and warm. Has access to Wi-Fi and free parking like the rest of the spaces on our premises.
Building Three - This is our cottage. It has its own independent entrance, a balcony with a beautiful view of the city and mountains, 4 Beds of which 1 is a Queen size and two are single beds, a walk-in closet, private restroom with only a shower, a kitchenette which gives you a view of the city as well as the mountain range in Kensington. Free parking and free Wi-Fi like the rest of the house is provided. This is ideal for a family and it too can accommodate 4 people.
All our rooms are non-smoking rooms, smoking is not permitted in any of them. We do however provide designated smoking areas around the house.
Our premises has a large garden with a number of locations where one can sit and enjoy the scenery and the general ambience. Be it they enjoy the large rocky garden in the back of the main house or in front of the house where the veranda is equipped with a seating area to enjoy the view.
We have a barbecue guests are welcome to use. We have a large open plan kitchen looking out into the dining room area as well as the large lounge fitted with very comfy couches guests are always welcome to use to socialize in.