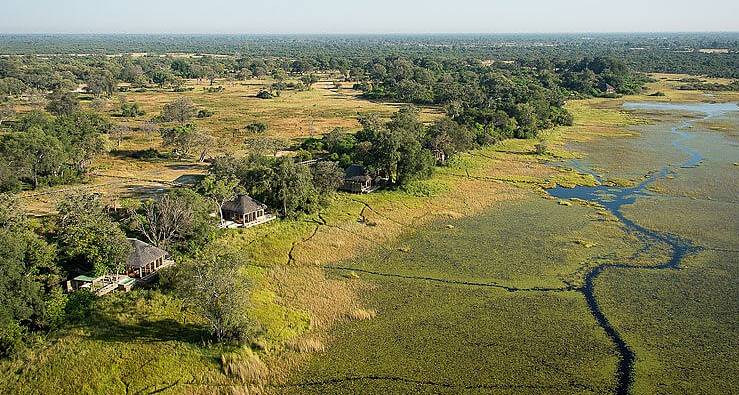 A retreat of contemporary and unique design,
Vumbura Plains
comprises two separate satellite camps, consisting of 14 rooms overall (of which two accommodate families). Each camp has its own sumptuous raised lounge, dining and bar area with magnificent vistas across the Okavango Delta, while a deck with comfortable cushions protrudes into the floodplain, either for star-gazing or as a convivial camp fire setting.
Highlights of Vumbura Plains:
- Game viewing at Vumbura is enjoyed on both land and water year-round
- The habitat mix means just about every species found in the Okavango can be seen
- Excellent predator sightings, from lion to wild dog
Accommodation at Vumbura Plains - Premier Camp:
A portfolio of elegant camps found in the best possible areas in Africa and characterized by unashamed (but appropriate and sustainable) luxury. These camps also have an explicit purpose or `reason for being` and are crafted to be to be relevant to and in harmony with its location. The camps range in size from 3 to 11 individually stylized rooms.
Each large, luxurious room is raised off the ground, with indoor and outdoor showers and an en-suite bathroom. A step down is the lounge area, open on three sides for that iconic view of the floodplains. Additional room features include a private plunge pool and `sala` – a place from which to watch the passing parade of wildlife or indulge in a soothing massage.
Wildlife at Vumbura Plains:
The annually flooded grasslands of the Okavango Delta surrounding Vumbura Plains are locally referred to as `melapo` and offer good seasonal viewing of elephant, giraffe, impala, sable antelope, kudu, zebra, common waterbuck and reedbuck, tsessebe, wildebeest, red lechwe and Cape buffalo. Hippo and crocodile are common in the waterways. Predators include the African wild dog, several resident prides of lion, as well as leopard, cheetah and African wildcat. Birding is exceptional all year round.
Things to do at Vumbura Plains:
Due to our location, Vumbura Plains offers both land- and water-based game-viewing activities, as ways of observing the range of life around us.
- Game Drives
- Night Drives
- Mokoro Excursions
- Boating
- Nature Walks
- Hot Air Balloon Safaris
- Fishing
- Birding
Please find herewith some
information
that is provided as a guideline to visitors when on safari in Botswana.