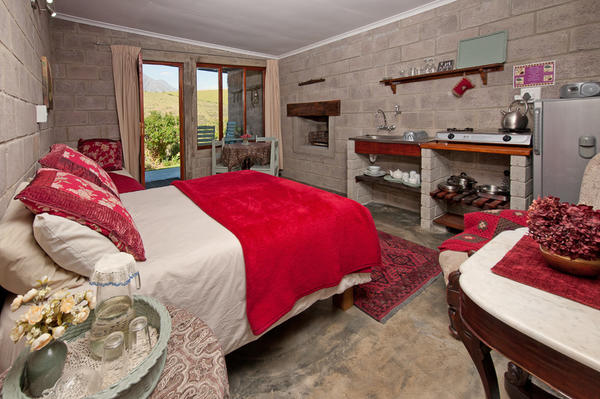 Swellendam 100% Eco Friendly Living Accommodation -
Vrede Vallei Guest House
.
In 2010, we bought a farm in Swellendam. My husband Ben and I built it from the ground up and now we have a lovely home and Guest House, nature intact, with long cool verandas. The structure is rustic, but has a charming feel to it. Antiques, richly coloured Persians and tapestries give the home a feeling of warmth and comfort. The ivy creeper has formed a leafy canopy over the veranda giving the home a timeless look. We have three lovely garden and mountain view rooms, each with their own private veranda, garden and beautiful Langeberg mountain views. If you are looking for Guest houses in Swellendam then you have found the right place.
The homestead and farm runs on solar power, wind turbines and gas giving you a 100% eco friendly living experience. We have decided and learnt to live in unison with nature and to respect the beauty of it. The world is a beautiful place and keeping its beauty intact is very important to us.
Our guests love the Country Guest house experience. Our guests never fail to mention a starry moonlit sky, a mesmerising moon rising or a striking sunset. We have been blessed with wonderful folk and when they leave, we always hope someday we will see them again.
Our charming Swellendam accommodation options - We have 3 x lovely garden rooms overlooking green fields and a picturesque mountain range.
A peek into Nature - The farm dam is +/- 5 metres deep and a beautiful reflection of the surrounding hills and clouds mirrors from its surface. Swallows fly low and gracefully over the water while yellow-billed ducks weave in and out of the reeds. A grey winged Heron on the shallow muddy edge keeps a watchful eye over the farm. Daily, a white breasted cormorant hangs its wings out to dry after diving into the deep cool water while the malachite kingfisher, the most beautiful of all inland water birds, sits patiently on a nearby branch, always examining its surroundings. It`s truly an amazing peek into the beauty of nature.
The farm walks are wonderful with views of our majestic mountain range and green valleys. Small wild flowers turn to the sun while Arum Lilies and Waterblommetjies flourish in the wet areas. Our magnificent mountain range stands tall and proud in hues of purple and lilac. The surrounding farms and valleys, canola and wheat fields, form a patchwork as far as the eye can see.
Vrede Vallei serves a fantastic Full English Breakfast, prepared and served by your hosts Ben and Lundi. Weather permitting, breakfast is served on veranda with scenic view of garden and Langeberg mountain.
- Breakfast - served between 8.00am to 9.00am
- A typical farm style English breakfast would include the following:
- Eggs, bacon, sausage, tomato
- Toast served with homemade jam
- Fresh fruit
- Yoghurt
- Tea and Coffee
Vrede Vallei Dinner - Visit any 1 of the lovely restaurants in Swellendam or pick up some wine and cheese and enjoy a picnic on the veranda while you enjoy the sunset.
Why consider Vrede Vallei?
Vrede Vallei Country Guest House is renowned in Swellendam as a place where you can get away from the frenetic pace of modern day living. The guesthouse is a relaxing sanctuary where guests come to switch off and tune out for a while. Where you can talk and laugh, read or play cards without the distraction of a television set or constant wifi dependent activities. Where you can reconnect with loved ones or nature and recharge your own batteries for a change. If you are in search of some peace and quiet in a beautiful surrounding, Vrede Vallei should be on top of your list.
Accommodation at Vrede Vallei Guest House:
Double Room is perfect for two guests, whether it be friends or a couple. It has a comfortable double bed in the room, with an adjacent private bathroom. Wooden French doors lead you out onto a veranda with striking views of a mountain range, green fields and a garden, perfect for capturing a striking sunset or sunrise. The room is beautifully decorated in vintage style with Persian rugs. Please keep in mind the homestead and all rooms are 100% eco-friendly and do not offer wifi/tv facilities.
Features of Room 1
- 1 x double bed
- 1 x bathroom with a shower
- Veranda with Lovely Mountain and garden views
- Braai off the veranda (bring own charcoal)
- The rooms are tastefully decorated with antiques
- All linen and towels are provided
- Complimentary coffee and tea
- Enjoy a hearty country breakfast
- Vrede Vallei Breakfast