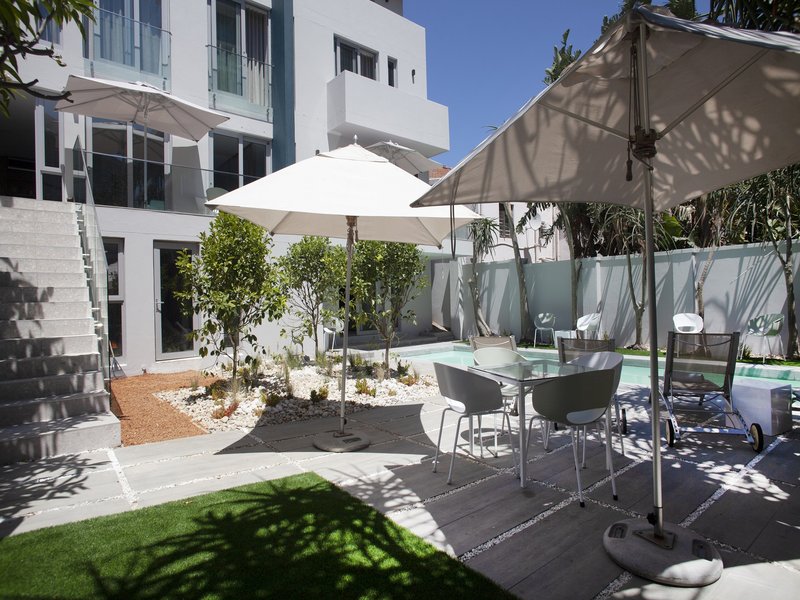 Nestled between the bustling Green Point area and Cape Town`s very own Soho - De Waterkant,
Villa Zest
offers designer luxury accommodation to the style-savvy visitor looking for a more personalized boutique hotel experience.
The clean modern lines of Villa Zest's Bauhaus architecture are the inspiration for the interior of this boutique hotel hideaway, with each individually decorated en-suite room a seamless fusion of retr- style and luxury detail; only the finest in bed linen, furnishings and fittings have been used.
An urban sanctuary designed with meticulous attention to detail; the Villa Zest boutique hotel experience offers the perfect balance of style and comfort.
- Breakfast at Villa Zest is a mouth-watering affair. Wake up to a delicious smoothie made from a medley of South Africa's freshest fruit, or enjoy our just-baked croissants with a variety of gourmet cheeses and homemade jams and preserves.
- Escape to Villa Zest's private garden oasis flanked by a sparkling 10-metre long pool for summertime dips, a comfortable sunken lounge area and outdoor fireplace for those chilly winter evenings creating the perfect balance of wellbeing and calm.
- Our rooftop terrace is the ideal place to sit and enjoy the fantastic 360° vistas of the city skyline, Signal Hill, Cape Town harbour and beyond.
- Villa Zest's media facilities offer unique high-end technology and communications solutions to business travellers and the film and media industry including WiFi access throughout the premises, a dedicated professional broadband internet connection with 6-megabit per second bandwidth and a complete VIP professional telephony system enabling guests to make calls at drastically reduced rates.
- Villa Zest`s spacious lounge is a great relaxation area, opening up onto a balcony with views of the V&A Waterfront and the garden below. A fireplace takes the chill out of the air on winter nights.
Services at Villa Zest
Let us indulge your every need:
- Airport pick-up and transfers
- Car hire, taxis
- Laundry and dry cleaning
- Secure parking
- Golf and Tennis lessons from an ex-pro golfer and tennis coach
- Recommendations / reservations for restaurants, clubs, theatres, etc.
- Assistance with planning and booking of events, tours, excursions, etc.
- Unlimited adventure lifestyle opportunities including sound barrier jet flights, luxury yacht charters, Great White Shark cage diving, Parasailing, bungee jumping, race car circuit driving, exotic sports car rentals, Safari Tours and Gourmet chefs at your service but to name a few.
- Arrangement of spa treatments, yoga and Pilates sessions, etc.
Villa Zest accommodation:
Indulge in sophisticated comfort; all rooms in the Villa Zest feature:
- Air conditioning / Heating
- Wine fridge
- 26-inch flat screen TV, DVD, Satellite TV including Sports and Movie channels
- iPod docking station with alarm clock
- 5 Minutes of complimentary calling anywhere in the world
- Luxury linen and bedding
- Use of naturally-derived, non-chemical cleaning agents
- Bathrobes
- Most beds are extra-length
- Electronic safes