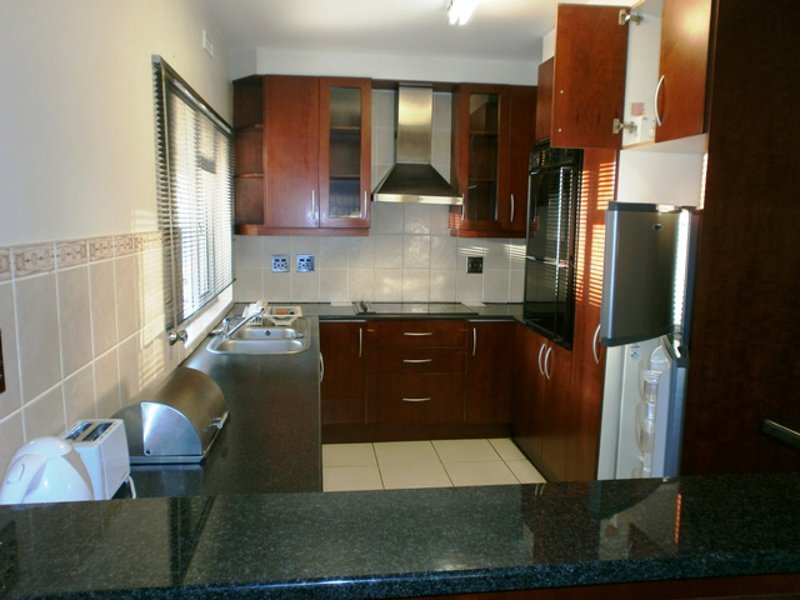 The
Vicmor Court
Apartment in vibrant central Sea Point (Three Anchor Bay section), 1 km to 3 km from Cape Town and the V&A Waterfront and the 2010 World Cup Soccer Stadium, is 4 storeys high, northwest facing corner unit, with 360 degree magnificent panoramic sea & mountain views, next to shops, restaurants and Woolworths Food and one block (2 minute walk) from the beach/ promenade/play park/ jogging track, 2 km from CT's biggest swimming pool complex on beachfront, and the building has a lift, security and intercom system.
The Apartment is 3-Star quality (not grading), semi-modern, pleasant, spacious, self-servicing, non-smoking, has television with free M-Net and DSTV Hotel Bouquet ("Cable TV"), Free Wifi, and consists of 2 bedrooms (1 queen-size and 2 single beds), lounge/dining room with 2 double sleeper couches (pull-out sofa beds), fully equipped self-catering open-plan granite kitchen, bathroom with bathtub & handheld shower and magnificent wrap-around scenic front balcony and reserved parking bay.
Furnished in uncluttered minimalist style. Free M-Net and DSTV Hotel Bouquet ("Cable TV") & Free Wifi.
The promotional low rates herein, are subject to surcharges related to very short stays and high number of persons sharing.
The promotional low daily rates include for 2 adults in main bedroom and 1 child under 13 or 1 adult in second bedroom, thereafter surcharge applies on daily rate. Children of 13 years and older, are classed as adults. (Surcharge per extra adult = + 34%, per extra child = + 17%).
Stays shorter than 5 nights, are subject to an additional surcharge on the low promotional daily rates. (Surcharge for only 4 nights = + 10%, 3 = + 20%, 2 = + 30%, 1 = + 40%).
During certain high peak periods like
Christmas, Easter, Cape Argus Cycle Tour, Jazz Festival, Mining Indaba
etc. the applicable
rates will be higher than the advertised rate
, for certain portions of any month.
The promotional low rates are in S.A. Rands (ZAR), and include free Internet/Wifi, M-Net & DSTV Hotel Bouquet ("Cable TV"), hot water and parking (VAT N/A), but exclude all meals, daily servicing, heating (optional extra R50 pd per heater) and refundable Damage/Security Deposit of approximately R2500 payable together with the rental balance on checking in.
Please note that "Vicmor Court" has no reception.
You can collect your keys at The Centurion Hotel (corner of Main and Frere Road), Sea Point, Cape Town.
Directions for checking in (payment, getting keys and directions to whichever building you have chosen to stay at) : From N1 or N2 national roads or from airport to our main Reception office address (Nr 1 Frere Road, Sea Point) at The Centurion All-Suite HotelTM, corner of Main Rd and Frere Rd (above "KFC", in same block as "Clicks" and "Pick `n Pay", on same corner as "Cafe Sofia"), Sea Point, Cape Town.
Follow national road signs to Cape Town. As soon as you enter Cape Town, follow road signs to Sea Point. When you see the ocean on your right, you will be on Beach Rd, from which you turn left into Rocklands Road, straight across Main Rd into Frere Rd past "Cafe Sofia" on the left-hand corner and drive into the first driveway on your right.
Please come to the main external reception which is on the short passage between the pavement and the tower of the building, not inside the tower, and check in only with Vassi or his assistant Vicky.
For a motor car GPS unit, please use Nr 1 Frere Road, Sea Point (DO NOT USE Nr 1 Frere Road, Cape Town).
Cancellation Policy:
In event of client cancelling, shortening or shifting at any time (from the date of making the booking) before or during the stay for any reason, payment of rental for full initial period is still due before check-in, and refund amount is dependent on extent of income from subletting on client`s behalf (shortfall at client`s cost), and subject to deduction of R500 administration fee per sublet check-in. Client is deemed to have viewed and approved of apartment before making the booking. Minor defects are to be rectified by lessor and are no grounds for cancellation of booking.
Please note that guests arriving after 20:00 on the day of arrival are subject to a late arrival fee R300.
OUR SEASONAL DAILY RATES
(Rates include for 3 persons only; rates are higher for extra adults/children or for a stay of less than 5 nights)
01/09/17 - 01/11/17 R 680
01/11/17 - 08/12/17 R 810
08/12/17 - 18/12/17 R 1020
18/12/17 - 23/12/17 R 1160
23/12/17 - 27/12/17 R 1760
27/12/17 - 30/12/17 R 2250
30/12/17 - 01/01/18 R 3570
01/01/18 - 03/01/18 R 2250
03/01/18 - 08/01/18 R 1160
08/01/18 - 16/01/18 R 1020
16/01/18 - 21/01/18 R 1020
21/01/18 - 04/02/18 R 1160
04/02/18 - 09/02/18 R 2580
09/02/18 - 08/03/18 R 1160
08/03/18 - 12/03/18 R 1760
12/03/18 - 22/03/18 R 1160
22/03/18 - 26/03/18 R 1760
26/03/18 - 29/03/18 R 1160
29/03/18 - 03/04/18 R 1760
03/04/18 - 03/05/18 R 1020
03/05/18 - 01/09/18 R 680
01/09/18 - 01/11/18 R 810
Accommodation at Vicmor Court - Three Anchor Bay:
Main bedroom
Queen-size bed, mattress protector, night frill, duvet and cover, sheets (2), pillows and cases (2), 3-piece bedroom suite, dirt bin, clothes hangers (10), window blinds (2), lampshades (2), chair (1), triple connector.
Second bedroom
Single beds (2), mattress protectors (2), night frills (2), duvets and covers (2), sheets (4), pillows and cases (2), bedroom suite, bed lamps/shades (2), clothes hangers (10), ironing board, window blind, chair (1), bath towels (2).
Bathroom and shower over bathtub
Bath towels (2), hand towel, floor towel, water jug, toilet brush set, medicine cupboard, window blind.
Extras for person on sleeper couch
Blanket, pillows (2), pillowcases (2), sheets (-), bath towels (-).
Lounge/dining room
2 Double sleeper couches and 4 cushions, coffee table, 7-piece dining room table/chairs suite, colour television set, TV remote, DSTV Decoder, smart card, LNB cable and 3 cables, 2-point double adaptor, DSTV remote, TV table, Wifi Router, phone books (2), curtains (2), fan.
Entrance hallway
Audio intercom set.
Kitchen (open plan)
Eye-level oven and 3 trays/grids, hob with extractor, microwave oven and tray, fridge and freezer with ice cube holder, toaster, kettle, bread bin, pot/pan ceramic coasters (4), drying rack, dishtowel, swob, sponge, ashtray, beer glasses (3), wine glasses (3), tumblers (3), salt/pepper set, sugar bowl, milk jug, tea pot and lid, salad bowl, casserole dish, water bottle, iron, dinner plates (6), side plates (6), dessert bowls (6), cups and saucers (6), cutlery rack, teaspoons (6), table spoons (6), table forks (6), table knives (6), bread knife, carving knife, tin opener/corkscrew, corkscrew, egg lifter, stirring/serving spoon, breadboard, serving tray, set of 2 cooking pots and lids, frying pan, dirt bin, vacuum cleaner, broom, dustpan set, mop, window blind, ashtray.
Keys
Car gate remote control.
Keys to : Security door, apartment front door, balcony door.
Complimentaries
Complimentary items provided, on arrival only, for guests` use : Delivery menu booklet for various restaurants, salt, pepper, soap, toilet paper.
Important
Guests are kindly requested to provide any required additional items not contained herein, e.g. beach towel, hairdryer, plug converter, fan, VCR, radio, coffee/tea, sugar, shampoo, face cloth, sponge, dishwash liquid and additional linen/towels.
Should you encounter damaged or missing items among the above, or damage to any other surface in the apartment, it must be reported to us within two hours of checking in.