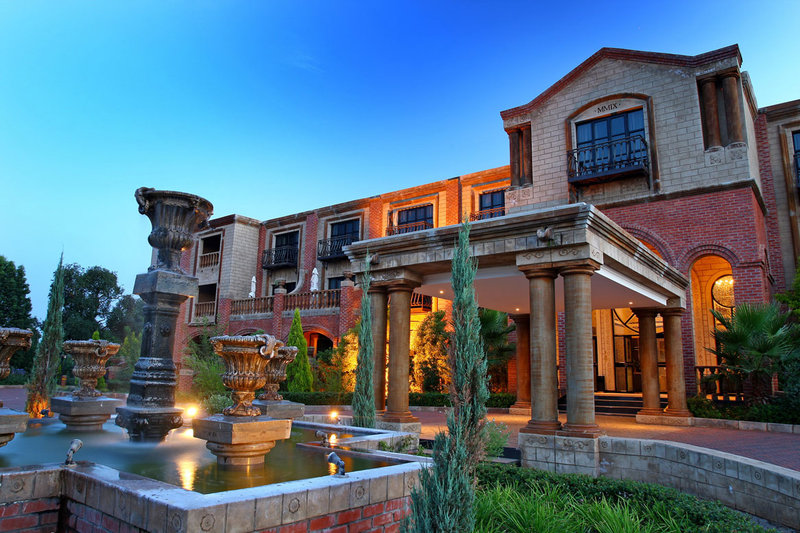 Velmoré Estate consists of the
Velmoré Hotel
, a stunning establishment aimed at the affluent luxury market. The property also features a second hotel, the Velmoré Grande - the Grande is the ultimate in luxury and opulent excess, from its oversized rooms to its extravagant finishes.
Velmoré Hotel is ideally located between Pretoria and Johannesburg. These two luxury hotels have a tranquil country setting that borders the Hennops River, and offers spectacular views of the Magaliesberg Mountains.
Its unique architecture is nostalgically inspired by traditional French Provence, and the layout of buildings over the expansive landscape creates a sense of space and serenity. After the sun sets, the ambiance transforms into one of magic and romance, with its atmospheric lighting, elegant archways, fine dining and exquisite décor.
The hotels can cater to large corporate events, product launches and stage shows, weddings and celebrations - no event is too big or small.
Velmoré Hotel offers the perfect weekend getaway close enough for convenience, but far enough to escape. The hotel prides itself on its elegant accommodation, attention to detail, service that matters and exceptional culinary experiences.
Restaurants
An unforgettable experience awaits you at our Hotel`s Main Restaurant from tempting lunch buffets to elegant dinner spreads. The restaurant is open plan with an outside terrace for those warmer days and can cater to individuals, large groups or intimate experiences.
Conference and event facilities
With multiple indoor and outdoor locations Velmore plays host to any event, from smaller intimate weddings to huge corporate functions.
Accommodation at Velmoré Hotel
Standard Rooms
The Velmorè Grande Hotel features 18 Standard Rooms, all with the ability to sleep guests in a single, double or twin configuration.
Standard Suites
The luxurious Standard Suites offer spacious accommodations with elegant finishes. Velmoré Hotel is home to 39 of these Standard Suites and offers a single, double or twin occupancy.
Luxury Suites
The Luxury Suites at the Velmoré Hotel Estate offers extravagance and space with an elegant and classical feel. The Grande Hotel has 31 of these Suites and welcomes group bookings where the option of single, double or twin sleeping arrangements are available.
Deluxe Suites
Velmoré Hotel features 10 Deluxe Suites that can accommodate guests with single or double sleeping arrangements.
Presidential Suite
The versatile Presidential Suite at the Velmoré Grande Hotel has been booked by honeymoon couples, CEO`s, foreign dignitaries and celebrities alike. This unit offers both sophistication and charm.
Standard amenities include
- Free wireless internet connectivity in rooms and public areas
- Computer plug points available
- TV with selected DSTV channels
- Telephone
- Hairdryer
- Tea and coffee making facilities
- 17 hour Room Service (7:00 am – 10:00 pm)
- Laundry service