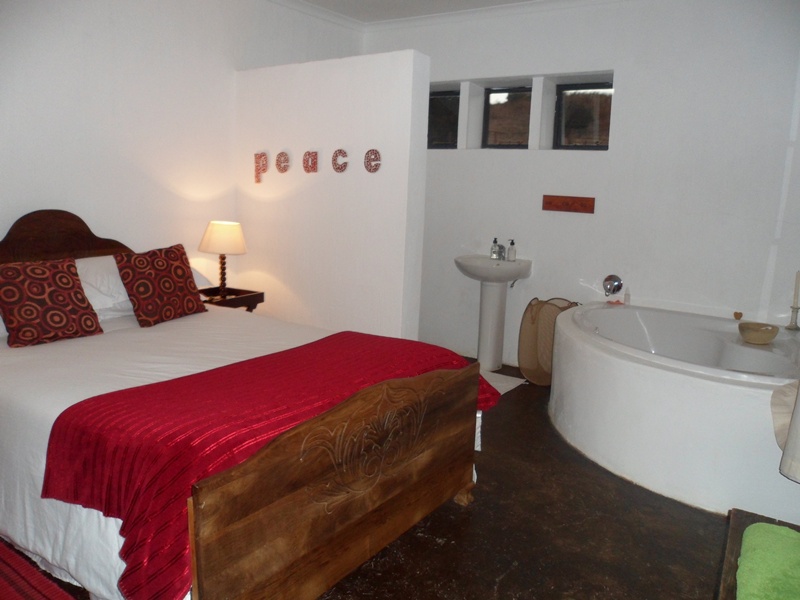 Enclosed by Viervoet Mountain, with Modderpoort Kop guarding the entrance and the Maluti Mountains as backdrop, you will find a haven of tranquility, a place where one can discover the pleasures of solitude and silence.
Twin Oaks Guest Farm is a working cattle farm known for its serenity and simplicity. Our location within the natural splendor of the Eastern Free State, an area known for its scenic beauty, sandstone mountains and big skies, provide visitors with the perfect setting to revitalize mind, body and soul while recuperating from the demands of everyday life.
At Twin Oaks Guest Farm we offer affordable Self-Catering, Bed & Breakfast or Dinner, Bed & Breakfast accommodation for business travellers, contract workers or -consultants, families and friends in four spacious, uncluttered, fully equipped units with a private entrance to each unit. Only crisp white, cotton percale linen is used.
Rooms:
Unit 1 is an open plan unit with 2 twin beds in the sleeping area, separated by sheer organza curtains from the lounge area furnished with a double sleeper couch and 2 comfortable chairs.The TV is visible from the beds as well as from the lounge area. The bathroom has a spacious shower and a beautiful view on the mountain.
Unit 2 reminds of an open plan bachelors flat. It is furnished with 2 twin beds and a double sleeper couch in the lounge. The TV with DSTV is visible from both areas. The bathroom has a spacious shower over a semi roman bath.
Unit 3 has 2 bedrooms. The first one has an en-suite bathroom and a double bed. The second bedroom has 2 twin beds and a separate bathroom with a spacious shower. The open plan lounge, dining and kitchen area are equipped for 4 people and has a TV with DSTV.
Unit 4 has a double bed, DSTV in the open plan lounge, an equipped kitchenette and a spacious bathroom with a shower. The unit is ideal for business travellers.
Twin Oaks Guest Farm Activities:
We have a 4x4 route on the farm for pleasure or training purposes. Cyclists practising for major national events, also make use of the 4x4 route. Hikers regularly enjoy the beauty of Viervoet Mountain.
A guided hiking trail is available. The very unique San rock paintings on the farm can be visited by prior arrangement with the guide. Orange Springs offers an amazing opportunity for stargazing on a clear night, especially the Milky Way.

Click to display the map
Health & Climate:
Twin Oaks Guest Farm is situated in a Malaria free region. The summer temperatures are moderate. Winter nights can be very cold, especially if there is snow on the Maluti Mountains.
Great place way out in the country. Tremendous food and nice crisp clean bed. Slept like a log !!