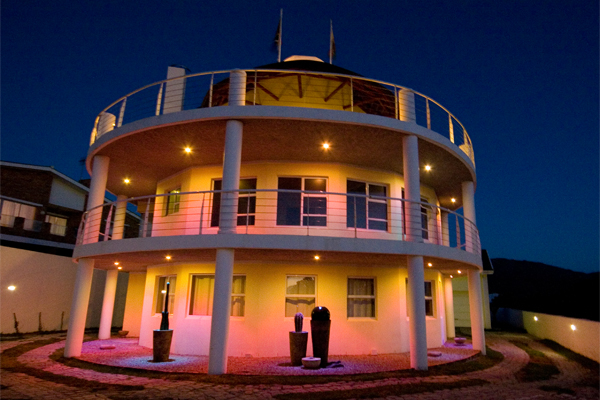 The Roundhouse - a very unique modern African design - is superbly situated in De Kelders facing and overlooking Gansbaai approximately 2km away.
Gansbaai still is an active fishing village and these waters are some of the best along the coastline for commercial fishing.
De Kelders is reknowned for its excellent land based Whale Watching.
The Roundhouse offers the following:
- Whale Watching garden on top deck with panoramic views of Gansbaai, Dangerpoint, Cape Point and Walkerbay
- Bar - For Guests Only
- Satellite TV
- DVD - Complementary Movies by request in the Bar
- Fireplace
- Outdoor `Beach fire` Braai - On Whale Watching Deck
- Luxury Apartments
- Internet connectivity and phone
- TV - In Each Apartment
- Stereo with CD - In Each Apartment
- Bath & built in Shower - In each Apartment
- A couple of minutes walk to the beach
- A couple of minutes walk to a few excellent whale watching spots
- Close to convenience store
- Close to Pub
- All Apartments can have a King Size Bed/Twin beds by request (King size bed only in the Prestige Suite)
- Guests can have complete privacy if wished
- The Roundhouse is furnished with hand made African style decor giving it a real African feel
Rooms:
Pinnepedia Suite (STANDARD SUITE)
This suite boasts a very large living area with a 3/4 size fridge, TV & Stereo and sliding door.
The bedroom is large which can accommodate for either a king size bed or twin beds with a lovely en-suite bathroom. The bathroom has a built in shower & bath & like the others hand made rustic bathroom fittings.
Astacus and Cetecea Suites (LUXURY SUITES)
These suites are in the main house are very luxurious and comfortable. The living rooms boast a TV, Stereo (with CD), work desk, sliding door to the outside grounds, Coffee and Tea making facilities.
The bathrooms are very large in size and boast corner baths, built in showers and shaver sockets.
Carcharias Suite (EXECUTIVE SUITE)
The Carcharias Suite is our biggest and most luxurious suite. It is also the only suite with a sea view. This suite has been decorated with ultra luxury and African feel in mind. The lounge boasts a big plasma screen television with a DVD and surround sound system for your personal entertainment and relaxation. The screen can swivel 180 degrees so that you can watch television from the lounge or the main bedroom and even from the bath! We created this wonderful unique design to give you the ultimate hotel room experience at the Roundhouse. The lounge has comfortable seating for 4-6 people with great sea views over the bay. The kitchenette unit in the lounge has a mini bar fridge, prep bowl, microwave, coffee and tea facilities as well as a full set of cutlery and crockery, bread board and toaster. There is also a private balcony sweeping around the Roundhouse giving you the freedom to sit outside at sunset and watch the sun dip over the horizon.
The large main bedroom has the swivel plasma screen television with two single beds or King sized bed. The suite also has a vanity room with walk-in cupboard. The carpeted bedroom floor creates warmth and comfort which contrasts sharply with the rough sandstone walls and gravel painted earthy walls. The bedroom and living room lights work with dimmer switches so that you can set the mood.
The main bedroom's on-suite bathroom includes a large jet spa bath and walk-in shower as well as shaving socket. The bathrooms décor is solid natural stone along with smooth features to create and extremely luxurious African feel. Toiletries such as body lotion, liquid soap, bubble bath, shampoo and a hair dryer are supplied. The bathroom is spacious and ample towels are supplied.
The second bedroom also has an on-suite bathroom. There is also TV mounted on the wall with DVD player so the people staying in the second bedroom can still watch TV or a movie in bed. If you lock the bedroom door to the lounge you will have complete privacy with your own amenities should you wish to have some space from you travel partners. The room also has another door for separate access to the main house and can be accessed without going into the main living room of the suite. The room also has two chairs for your comfort as well as its own coffee and tea facilities. The beds can be split into two very comfortable single beds otherwise a very comfortable King size bed.
The second bedroom's on suite bathroom has a bath and walk-in shower. Toiletries such as body lotion, liquid soap, bubble bath, shampoo and a hair dryer are supplied. The bathroom is spacious and ample towels are supplied.
Wireless internet connectivity is available in all rooms.
Sleeping Arrangements: 2 Persons in main bedroom (2 single beds or 1 king size bed) and 2 persons in the second bedroom (2 single beds or 1 king size bed).
Klein Ithaca cottage
The cottage is opposite the Guesthouse and offers extremely comfortable self catering accommodation for families & groups.
The cottage has two and a half bedrooms and can sleep up to six people. There are two bedrooms which can be arranged as king sized beds or twin and the half bedroom boasts a very comfortable double sleeper couch.
The cottage has a TV, full kitchen, indoor and outdoor braai's and 2 bathrooms with a beautiful surrounding garden.
The Roundhouse Guesthouse Activities:
*Boat-based viewing and cagediving with the Great White shark outside of Gansbaai
*Viewing of the Whales, dolphins(on occasion) seals, penguins, spectacular birdlife etc.
*Fynbos or beach Hiking Trails
*A Day out Fishing
*Horseriding
*Farm or beach and caves exploring
*Golf course
*4x4 Course
*Flower Picking
...and much, much more!

Click to display the map
Clothing & Accessories:
Gansbaai gear: Summer wear mainly with 1 or 2 warm jumpers and a jacket for the days out on sea.
Health & Climate:
Summers in the Overberg are hot and dry with the occasional summer rainfall sweeping the coast. The average daytime temperature is between 25-32 Degrees Celsius and a night time temperature of 16-18 Degrees Celsius.
Winters in the Overberg are mild. There is a general weather pattern where we experience 1-2 days of beautiful weather with temperatures exceeding 20 Degrees Celsius followed by 2-3 days of wet weather when a cold front hits the coastline.
On these days the temperature drops to between 12-16 degrees with the ccasional 'extremes' where the temperature drops below 10 Degrees Celsius.