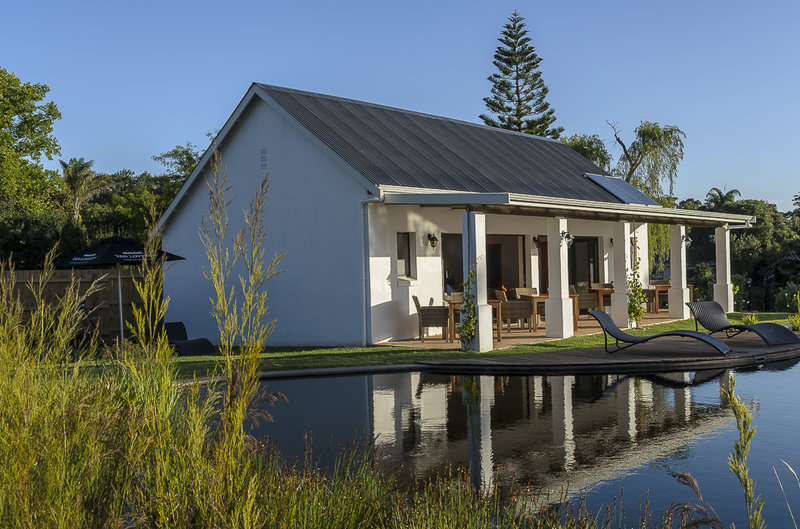 This small country guest house in the breathtakingly beautiful Swellendam has the charm and elegance to make your stay both pleasant and memorable.
Mark and Diana offer a unique experience of 5-star accommodation: unrivalled hospitality, elegant furnishings, understated luxury with emphasis on service and guest satisfaction, and one of the best breakfasts in South Africa.
The hideaway
has won numerous awards over the years, and is presently in the AA Hall of Fame.
A choice of either a sumptuous, English style cooked breakfast or an extensive Continental breakfast, both served with Diana's jaw-dropping selection of homemade preserves and fresh-from-the-oven muffins.
Comfortable lounge to relax in and meet your hosts and fellow guests.
Recommended restaurants in Swellendam are within easy and safe walking distance. Complimentary lifts to and from restaurants
Complimentary regional wine each evening with the hosts and fellow guests.
The indoor pool, "The Wallow", is ideal for relaxing after a busy day's sightseeing or after a good meal. It is enclosed by large sliding glass doors which open onto the garden and the water is solar heated to ensure the perfect temperature.
The Hideaway accommodation:
The Homesleigh Room - Ensuite bedroom with a queen-size bed.
The Peace Suite - Consist of two single bed.
The Double Delight Suite - Consist of a queen-size bed.
The Queen Elizabeth Suite - Consist of a king-size bed and sleeper couch.
The Ecstasy Suite (honeymoon suite) - Spacious room with king-size sleigh bed, a large luxurious bathroom with double bath, vanity and walk-in shower.
All the suites are air conditioned and opens directly onto a quiet large, private garden.
Electric blankets are available and the air conditioner is set for maximum coolness at 20C.
With the poor television signal over the Langeberg we do not have television sets in our suites, but there is however a television with satellite TV available in the main lounge as well as internet facilities
Please note that rooms are non-smoking.