The Backpackers Ritz is the longest running hostel in Johannesburg, over the years the Ritz has earned a reputation for consistently providing an excellent service to our clients.
Set in a large, beautiful mansion with a stunning garden, the Backpackers Ritz is a clean, comfortable haven in Johannesburg where you can relax before embarking on your next adventure!
The Backpackers Ritz has many features that make it a special place to stay in Jo'burg. The tranquility of the pool ensures it's a popular spot all year round.
Our bar in the 'Dungeon' is open every evening. Breakfast is available at the Courtyard Caf?.
Some travellers fear Jo'burg, but most love it. Take the time to explore the city and be amazed by the diverse cultures, interesting people and numerous places to visit.
There are many amenities close to the Backpackers Ritz, including; Bars, Restaurants, and Cafes, there are Cinemas, Supermarkets, Shops and Banks, as well as many Airline Offices and the Mozambican Embassy. The famous Rosebank Flea Market is a mere stones throw away.
Facilities
- Internet, Fax & Phone
- Mail Holding
- Luggage Store
- Personal Safes
- Self Catering Kitchen
- Cafe
- Drinks/cigarette Machine
- Swimming Pool
- Games Room
- Bar with DSTV
- Credit cards
Transfers
Transfers from the airport and station can be arranged.
Scheduled Transfer Timetable:
Airport/station «» Ritz @ 8am, 10.30am, 12.30pm, 2.30pm, 5pm, 7.30pm
Ritz «» Airport/station @ 7am, 9.30am, 11.30am, 1.30pm, 3.30pm, 6pm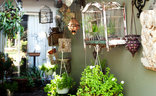 Style, Space, Function, Form. Join us at Craighall Garden Guest House and discover wonderful diversity, a cultivated garden of peace and tranquility, a space to create. Two luxurious studios.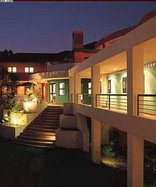 In a garden setting, close to South Africa's prime business centers of Rosebank, Sandton, Illovo, Hyde Park, Randburg and Johannesburg, and only a 30 minute drive from Pretoria by car, lies Ten Bompas, an intimate, luxurious "home away from home.
From:
R1625.00
per person sharing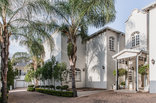 Set tucked away in a quiet street Treetops Villa is a retreat, relaxing and tranquil. Close enough for comfort and easy access, far enough from the hustle of traffic and city noise that you can commune with nature.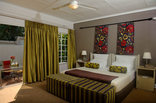 Top ratings on Tripadvisor, Liz at Lancaster offers luxurious bed and breakfast accommodation at competitive prices. The 7 units are set in an old established garden that offers a tranquil ambience, swimming pool and privacy from other guests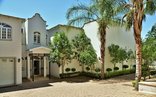 Make Mont d'Or Sandton Boutique Hotel Villas your next destination and experience the diverse culture of Johannesburg and all it has to offer. Ideally situated near all Sandton shopping centres and easily accessible from the M1 coming from Johannesburg.
From:
R3000.00
per person sharing