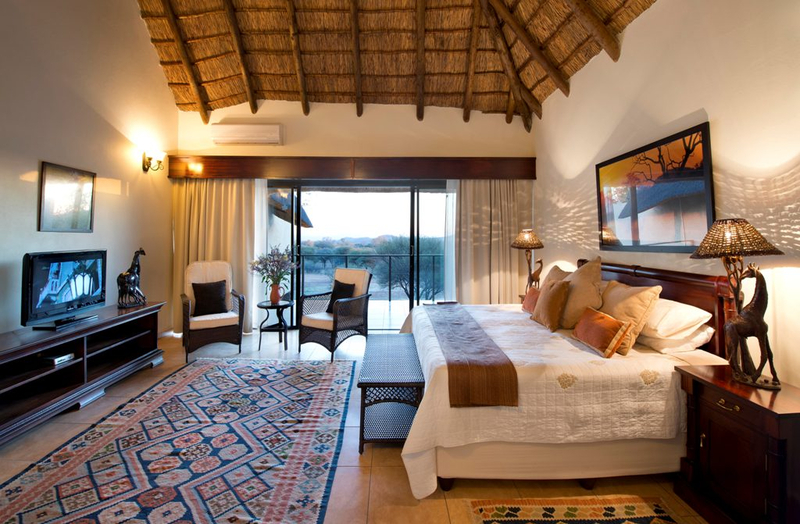 Thaba Khaya Lodge
("House on the rock") provides a serene bush retreat to the nature enthusiast as well as those wanting a break from city life. Just one and a half hour`s drive from Johannesburg and even less from Pretoria, Thaba Khaya is located within the conservation-focused Sable Ranch which is a Natural Proclaimed Heritage Site (South Africa heritage program number 143 signed by FW De Klerk 1991).
Thaba Khaya Lodge is an exclusive private game lodge set in the pristine bush veld less than 30 km north of Brits and yet far far away from the sometimes overwhelming demands of city life. The lodge topography is 1800 feet below that of Johannesburg and generally 3 degrees C warmer than the High Veld of Johannesburg.
It`s a place to be at peace.
Full board and lodging, exquisite cuisine, luxurious comfort and superb service, combined with the wonderful sights and sounds of the bush veld, are the hallmarks of Thaba Khaya Lodge.
Give yourself a break and come and experience our wonderful world.
Unfortunately no children allowed under the age of 10 years at the Lodge
Accommodation at Thaba Khaya:
Our Standard Rooms which are located in the main lodge building are all en suite double rooms with garden views. The rooms have ceiling fans to provide comfort on the warmer summer nights. The dining area and lounge area by the fireplace are easily accessed from these rooms.
The spacious luxury suites are all en suite with views of the reserve beyond the lodge. The rooms have also got tea/coffee making facilities as well as a small fridge which can be stocked with drinks from the bar of your choosing.
Both room types offer many chances for seeing wildlife from the comfort of your room as, apart from the wildlife on the game farm, there are also nyala, klipspringers and a sable within the lodge premises.
Thaba Khaya Lodge Activities:
Two game drives are offered to guests daily to view the animals on the reserve. Trips are also often made to view the rare sable and roan antelope in their breeding camps.
Day trips to a lion project, an elephant or monkey sanctuary and a curios market can be organised through the lodge for guests that want to see a bit more of the area.

Click to display the map
Clothing & Accessories:
It is a good idea to bring sun tan lotion, hats and sunglasses, not only for the pool area but also for whilst on game drive. Good walking shoes are also recommended for game drives so that the guide can get you out of the car from drinks stops or to look at views or some of our smaller wildlife.
Warm winter clothing is recommended for guests staying between May and September as the drives can be a bit cold.