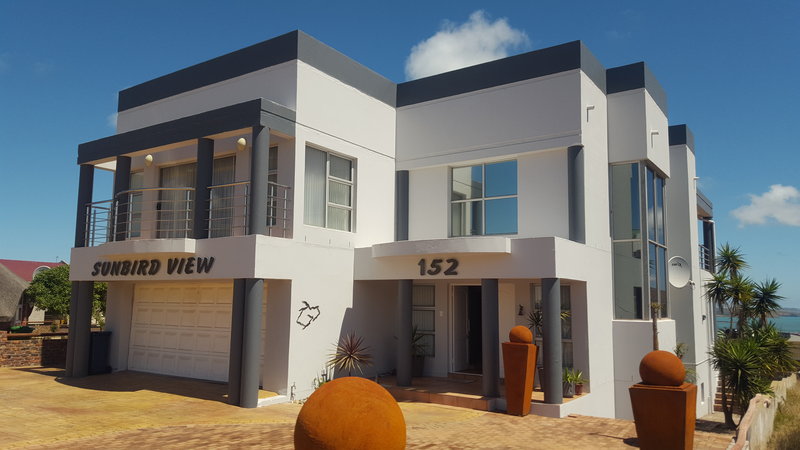 Sunbirdsview
is situated in Myburgh Park in Langebaan, 2km from town which is a popular tourist destination just over 100 km from Cape Town. This idyllic seaside resort has everything that the nature and water lovers could want.
Guests have a choice of renting a Two-bedroom Self-catering Unit, unit 3. The unit is comfortably furnished and guests will have access to a small kitchen and lounge
Unit 1 Is a open plan unit with a bed and sleeper couch furnished in beach style.
Unit 2 is a one bedroom unit with loung/kitchen overlooking the garden
Unit 4 is a en-suite queen room
Accommodation at Sunbirdsview:
When renting the two-bedroom unit, the unit will consist of a bedroom furnished with a queen-size bed and a bedroom furnished with two single beds with two bathrooms. Rented as a three-bedroom unit, the unit will consist of two rooms that are furnished with queen-size beds, one of which has an en-suite bathroom, and the third room with two single beds. The two rooms will have access to two separate bathrooms.
The Flat is a well-equipped, open-plan unit. It is attached to the main house, but has its own private entrance allowing it to be rented separately. The Flats can accommodate between two and four guests. The kitchens is well equipped and the flats contains a television and braai facilities.
The Langebaan Lagoon is a protected area and part of the West Coast National Park; it is also an excellent spot for all kinds of water sports. Langebaan is a world-renowned birding spot and, every year during the flower season, the area explodes into a riot of colour when the wild flowers bloom. It is also an excellent spot see the southern right whales calving, in season.
The Guest house is near the West Coast nature reserve and 3 km from the golf coarse 6 km from Club Mykonos Casino. The west coast fossil park is also near by. Langebaan do have lovely flowers in season. Langebaan is a beautiful place to have your holiday the whether is mild and no to far from Cape Town. Langebaan is well known for kite and wind surfing and all water sports.
Beach towels is not supplied in the units.