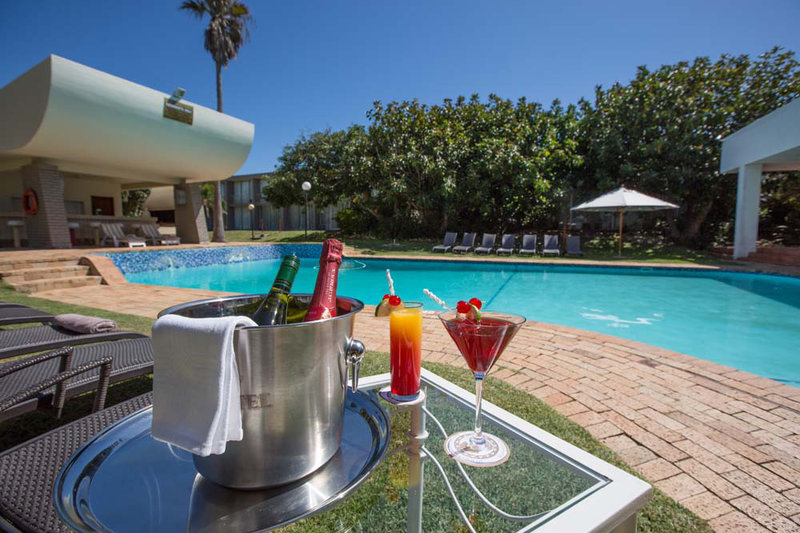 From the moment you step into our lobby at the
Summerstrand Hotel
and you begin to experience the subtle interplay of colours, artwork, light and music, you'll feel special and pampered, as our full range of services are delivered with the credo – "Hospitality from the Heart".
Nestled on the shores of Nelson Mandela Bay, between the warm Indian Ocean and the Humewood Links Golf Course. 127 rooms – perfectly arranged with views of the beaches, golf course and private landscaped gardens – await you.
Whether it is adventure or relaxation you are looking for, Nelson Mandela Bay is the place to be.
Port Elizabeth is the watersport capital of South Africa. With its pristine endless beaches you can choose to either relax and soak up the sun, enjoy long walks on the beach or do some diving or jet skiing or even deep sea fishing.
There are number of stunning venues in Port Elizabeth as well as The Boardwalk Casino and Entertainment World. The Boardwalk offers a number of fine restaurants, retail shops, kiddies play areas and of course The Casino.
Enjoy game viewing at one of the number of reserves situated a mere hours drive from Port Elizabeth.
Take a day trip out to Jeffreys Bay where you can surf the waves or wander around this seaside village.
Summerstrand Hotel accommodation:
Summerstrand Hotel has a total of 127 rooms. All rooms have en suite bathrooms – air conditioning – FREE wireless connectivity – complimentary tea/coffee making facilities – remote control satellite colour television – hairdryer – safes.
All bedrooms have walk on balconies which have views either over Algoa Bay, the Humewood Golf Course or our landscaped gardens.
Paraplegic and interleading rooms are available on request.
Restaurant at Summerstrand Hotel
Enjoy a Hearty Breakfast or Delectable Buffet dinner in the Satis Restaurant which can seat up to 160 guests. Enjoy a fusion of South African flavours with international trends in our contemporary styled restaurant whether catering for the individual or large groups in our Chef's team is equally adept at preparing creative dishes to suit your palate.
For an intimate dining experience, we offer a private dining area that can seat up to 8 guests – guests will have freedom to dish up from the tantalising buffet on offer but can enjoy their meal in the privacy of Captains Cabin.
Satis Restaurant offers a South African Sunday Lunch buffet during the winter months – perfect to warm you up during those cold winter days and during summer we offer a fantastic braai around the pool area where you can relax with a cool drink while we take care of all the preparations for you.
Satis Restaurant is the perfect choice for any occasion, from a family meal, spoiling your loved one or entertaining your clients.
Facilities at Summerstrand Hotel:
Summerstrand Hotel offers a fantastic lounge area which leads out onto the pool area, you can relax with a drink or simply catch up on the days news while enjoying a coffee and piece of cake or having a pre-dinner drink. With large windows and a fantastic view of the pool and landscaped gardens you will be transported into another world.
The Bar allows you to catch up on the days sport while sipping on a cold one. Or you can enjoy a cognac after a supberb meal in the restaurant.
If you have had a long day of work and play and want to relax in your well appointed room – you have the option of ordering from our extensive room service menu which is available from 11h00 until 22h00.
Need to post some photos on social media of your visit to Nelson Mandela Bay or even if you need to catch up on some e-mail, we offer all of our guests both accommodation and conferencing, unlimited complimentary wireless connectivity. Summerstrand Hotel also offers our guests the use of a business centre should you need to make use of our computers.
Location
Conveniently situated at the serene end of the beachfront – nestled between the established Humewood Links Golf Course and the glorious Madiba Bay – a short walk and you're strolling on one of the finest beaches in the world.
Close to the Port Elizabeth airport and all amenities, you'll be able to afford those extra few moments that could have otherwise been spent travelling, you'll find the location a tranquil one, yet not out of the way. Transfers are available on request at a nominal fee.
Directions from The Port Elizabeth Airport
As you leave the airport turn right into Aliaster Miller Drive. Continue with Allister Miller Drive until you get to a set of traffic lights, at the traffic lights turn right into La Roche Drive. Continue with La Roche Drive until you get to an intersection, at the traffic lights at the intersection turn right into Strandfontein Road. Continue with Strandfontein Road until you get to a traffic circle, at the traffic circle turn left into Admiriality Way. Continue with Admirality Way until you get to a stop sign, at the stop sign turn right into Marine Drive. You will see The Summerstrand Hotel on your right hand side.
The hotel looks pretty old from the outside but once inside all the fears that you may have, are put to rest. The hotel is clean and provides a great service - food is great and staff very friendly and helpful.