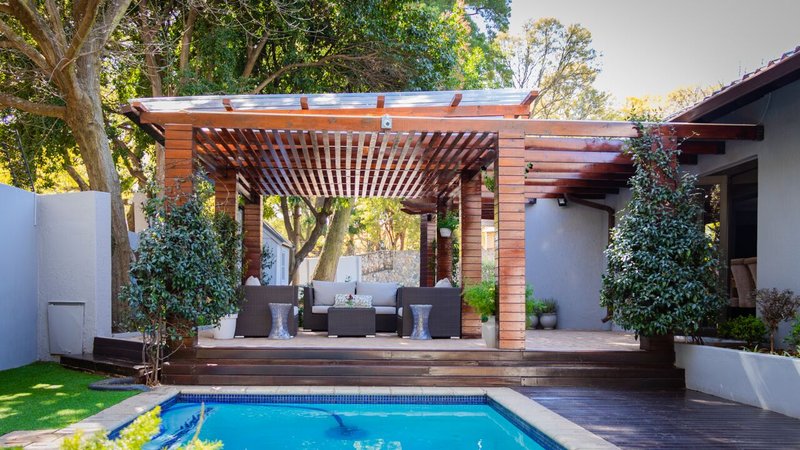 An oasis of warmth and sophistication,
St Peter's Place Boutique Hotel
offers exclusive and luxury accommodation in the historic heart of leafy Johannesburg.
Relax next to the pool or at the bar, retire to one of our seven superb en-suite rooms, each with its own access to the garden. Enjoy an elegant dining experience with fine wines and personal service. Make this your home base for exploring the exciting and diverse attractions of the City of Gold, unwinding after a long day, or enjoying a productive and stimulating conference at the hotel whilst the management team caters to your comfort.
St Peter's Place Boutique Hotel is conveniently and centrally situated on the ridge in Upper Houghton. With easy access to the Gautrain service, all major shopping, cultural and sporting amenities, fine dining restaurants, medical facilities, and the country's top schools and universities. OR Tambo International Airport is within a comfortable 20 minute drive. All of Johannesburg's foremost business districts are within easy reach – the vibrant, newly rejuvenated city centre; Rosebank, Sandton and Midrand – the hubs of commerce, trade and leisure.
Accommodation at St Peter`s Place Boutique Hotel:
Each of our seven luxurious en-suite rooms has a safe, television (with full satellite coverage), internet access, bar fridge, air-conditioning, hairdryer, tea and coffee making facilities and laundry service.
We serve a delicious full breakfast, a great start to your day. Our on-site parking is private and secure. There are conference facilities that can host up to 30 people, depending on seating arrangement.