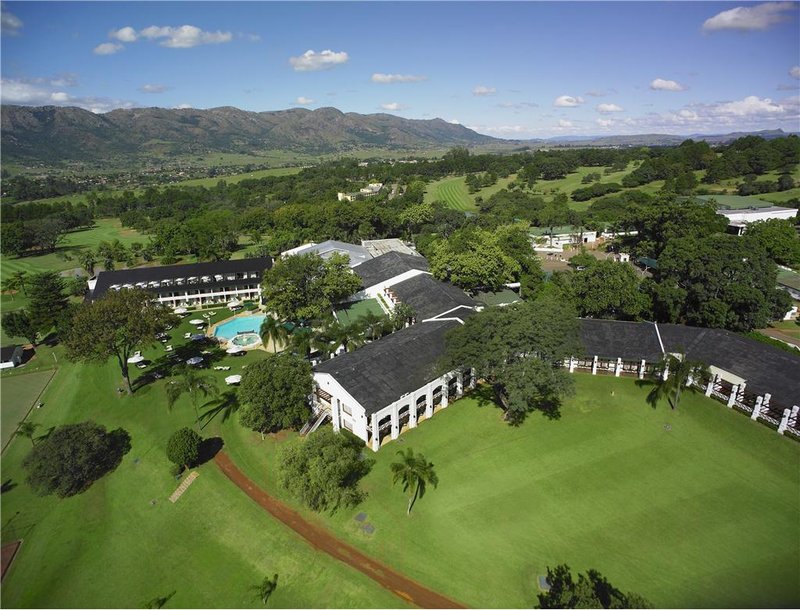 Set in the natural tranquility of the Ezulwini Valley, the
Royal Swazi Spa
Valley resort beckons guests from all corners of the world. The resort is made up of the elegant
Royal Swazi Spa
hotel and Lugogo Sun. The two hotels are a minute's drive apart when travelling by courtesy bus, which makes it the ideal venue for a host of special events, including large conferences, banquets and international golf championships.
Lugogo Sun hotel is one of the fine Swaziland hotels that make up the Royal Swazi Spa Valley resort . The hotel's location takes full advantage of the tranquillity of the surrounding Ezulwini Valley, allowing guests to feel completely relaxed upon driving onto the grounds. Surrounded by nature, mountains and a host of activities and facilities make for a memorable holiday or business conference.
The Royal Swazi Spa hotel forms an integral part of the Royal Swazi Spa Valley resort. The 4-star hotel is sought after by many in search of luxury Swaziland hotels. It offers everything guests could ask for in one convenient location, with additional facilities to tantalise and entertain. The hotel itself offers a number of different rooms and suites to suit every family, group or occasion. It's the perfect venue for your conference, special function, event or wedding. The conference facilities more than cater to any event and the casino, restaurants and bars add another dimension for delegates or guests to explore.
Please note:
Over a weekend you are required to stay a minimum of 2 nights.
Accommodation at Royal Swazi Spa
The Royal Swazi Spa Valley is your best option when looking for Swaziland accommodation. Choose from luxury rooms situated at either The Royal Swazi Spa hotel or Lugogo Sun. All resort accommodation caters for a variety of requirements, from family holidays to travelling sports groups and conferences. ​​​​
The
Royal Swazi Spa
hotel consists of 149 rooms in total. These rooms answer to every accommodation need and are broken down into Standard Twin Rooms, Family Rooms, Standard King Rooms, Luxury Balcony Rooms, Standard Suites and the Royal Suite. All rooms are within close proximity to the casino, course, conferencing and resort restaurants and bars.
Lugogo Sun consists of 202 rooms in total. These are broken down into three Luxury Rooms and 199 Standard Twin Rooms. As with the Royal Swazi Spa hotel, all Lugogo Sun rooms are close to all the resort facilities and attractions. Find out more about the Lugogo Sun rooms and rates and make your choice from our selection of luxury Swaziland accommodation.
Conferences and Meetings at Royal Swazi Spa
There aren't many Swaziland conference venues that can cater to a variety of events like our Royal Swazi conference venue. We can provide for a variety of different functions, ranging from boardroom meetings for 10 delegates to conferences for up to 600 guests or elaborate events for family and friends. Our conference facility is made up of a number of venues – all self-contained and offering pre-assembly areas and a reception lobby. All conference facilities are close to the rooms,restaurants and casino, providing ease of access for your guests.
Golf at Royal Swazi Spa:
One of the main attractions to the Royal Swazi Spa Valley resort is the 18-hole championship golf course. It's found in one of most beautifully scenic locations with a unique vantage point waiting to be enjoyed from every tee and green. The course takes its shape from the Lugogo Mountain Range and curves gently down into the valley where the Royal Swazi Spa hotel and Lugogo Sun are situated.
View Room Types & Rates
Facilities & Services:
Babies
Disabled
Children under 12 years
Honeymoon Couples
Elderly
Airport Shuttle Service
Babysitting Service
24-Hour Room Service
Conference facilities
Wedding facilities
Team Building
Dining room
Bar on the Premises
Restaurant
Gym
Spa
Curio Shop
Internet Access
Parking (open and off-street)
Garden
English
Bowls
Casino on site
Squash
Royal Swazi Spa Activities:
• Golf - This picturesque course nestles on the side of a hill, in the lovely Ezulwini Valley. At only 6 166 metres (5258 metres for women) in length, the par 72 layout used to be regarded as a soft touch by pros and amateurs alike.
There are ample activities and attractions nearby:
• Mdzimba Trail - A half day tour for an active outdoor experience.
• Lobamba Trail - Focusing on the history of the country, the half-day Lobamba trail incorporates the National Museum, King Sobhuza II Memorial Park, the Lobamba Royal Village, a traditional Swazi Village, as well as the Mantenga Falls and craft markets.
• Taste of Swaziland - A dramatic evening group tour focusing on lifestyle and culture.
• Swazi Arts & Craft - Spend half a day visiting the splendid variety of art and craft markets in Ezulwini, Mantenga, Mlilwane and Malkerns, including a unique candle factory.
• Mlilwane Hogs & Hippo Trail - Half a day of stunning scenery, hippo spectacle with abundant bird and wildlife viewing.
• Hlane Big Cats - A full day spent tracking lion, cheetah and leopard in the Hlane Royal National Park, with an optional walking safari.
• Mkhaya Endangered Species - Spend a full day in an open game viewing vehicle watching black rhino, elephant, buffalo, tsessebe, giraffe and many more.

Click to display the map
---
Quality costumers attention excellent, food good quality. The hotel should work out focus to entertainment for adults and children's, as room games for children's and adults, not all people like casino, locals travel from hotel and return to historical places, parks or others of interest. There from 24 November were electricity problems, we did received apologies from hotel management and is good but really were bored Saturday 25 all day raining and without options.
Rating:
Reviewed by Miguel Lara Hernandez over a year ago
---
Excellent Staff, very friendly. Food was great. Shower water wasn't very hot.
Rating:
Reviewed by Jan van Tonder over a year ago
---
Despite a few inconveniences, we thoroughly enjoyed our stay. The property is beautiful and we all especially enjoyed the spa!
Rating:
Reviewed by Caelyn Whitlock over a year ago
---
I had a great time in Royal Swazi Sun,the service is Excellent
Rating:
Reviewed by Petros Sindane over a year ago