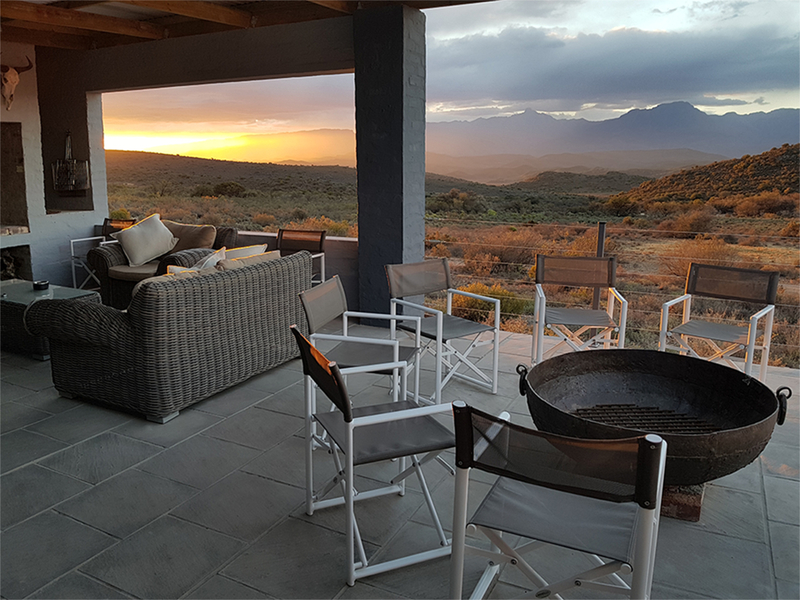 Our motto is:
Arrive as clients
, leave as friends."
Free: All meals, 2 Game drives per day, Free WIFI.
A holiday custom fit to your heart`s desire, with an Executive chef preparing African fusion dishes to your liking, anytime you please.
South Africa, especially Western Cape, has a vibrant culture and humanity that can only be found in countries with such a rich heritage and diversity. The common SA friendliness is one that we want to give away in lump sums to those visiting.
Accommodation at Rooiberg Safaris:
We have 3 rooms at Rooiberg Safaris -
The Kudu, Oryx and Eland Room
. Each bedroom have a King Size XL bed, only fitted with Egyptian Cotten linen. Bedrooms can be custom fit with extra beds. Each bedroom are furnished individually, using SA artwork. Block out curtains are used.
Each bedroom have a large, en suite bathroom with separate bath and shower facilities. We only use the best quality bathroom products and towels, provided with the room. We also provide slippers and a bath gown for each person.
All the rooms open to the patio with braai, sofas, fire pit and swimming pool. The incredible view has no man made features and also looks out on Towerkop Mountain, a SA landmark. 80 m from the house game regularly drinks from a waterhole, to the delight of visitors.
Our lodge is totally private and exclusive and the silence impressive.
All meals and most activities such as picnics, game drives, hiking and sun downer tours are included.
The Lodge can be rented as a unit, or as separate rooms. All 3 rooms open to the patio with incredible mountain views. The lodge includes a swimming pool, boma, braai area, 250 m/2 patio, lounge and television room, dining room and parking area and free wifi.
Waterhole 80 m from lodge where game regularly visits to the delight of clients.
Rooms:
All 3 rooms are fitted with king-size plus beds, with en-suite bathrooms. Rooms are spacious and build to the highest standards. We have supreme linen and towels. All the rooms open to the patio, with baai, fire pit, restaurant facilities, swimming pool and spectacular views of the mountain and Towerkop. Rooms can be customised to clients preferences, for example a single bed for a child can be provided. The lodge can be rented as a unit, or as separate rooms. Free WIFI in lodge and rooms. We are situated between 2 mountain ranges and the view is just amazing! The Klein Karoo have unique flora in the world and we have a waterhole 80m in front of the lodge, where game regularly comes to drink, to the delight of visitors. We are very private and no other man made structures can be seen. Every room has it's our unique South African style and art, as we try to support local upcoming artists.
Rooiberg Safaris Activities:
- Picnics and braais
- Star gazing
- Game Drives
- Hiking
- Bicycle Tours (own bicycle)
- Bird Watching
- Target shooting
- Story telling
Rooiberg Safaris Map:
Clothing & Accessories:
In summer and winter clothing should include clothes for warm weather. Even in winter it can sometimes be quite hot in daytime, depending on weather. In the evenings it can get quite cold and a very good jacket is always a good idea. Should you plan some hiking, make sure to have appropriate hiking boots or at least comfortable tekkies.
Especially in summer swimming clothes and sunscreen are a must!
Health & Climate:
No Malaria.
Can be quite hot in daytime, pack light clothes. Sunscreen.
Can be cold at night, bring a jacket.
Good shoes is always a good idea, especially when hiking, but even on game drives.
If you look for an individual holiday you must visit Rooiberg Safaris. From the first moment on Pieter and his team is looking after you and will fulfill every wish you have. The setting is beautiful, the lodge feels like home after a few hours. Willem is a brilliant chef cooking for you whatever you like. This is how we spent our days: In the morning we had a game drive of two hours, just us four as a family together with Pieter who showed us all the different animals living on this huge farm. When we came back Willem had prepared a full warm and cold breakfast buffet. After breakfast we relaxed at the pool watching the animals walking by. In the early afternoon we went for a hike to find Pieter who had already taken the picnic into the bushes. On return to the lodge we sat down, had cold drinks and the kids cooled down in the pool. The dinner as a five course meal again proofed Willem's great capabilities. We were finishing the days with some glasses of best South African wine in front of the fire listening to the noises of nature. Thank you to everybody at Rooiberg Safaris. You made our first visit to South Africa very special and we will for sure come back again.