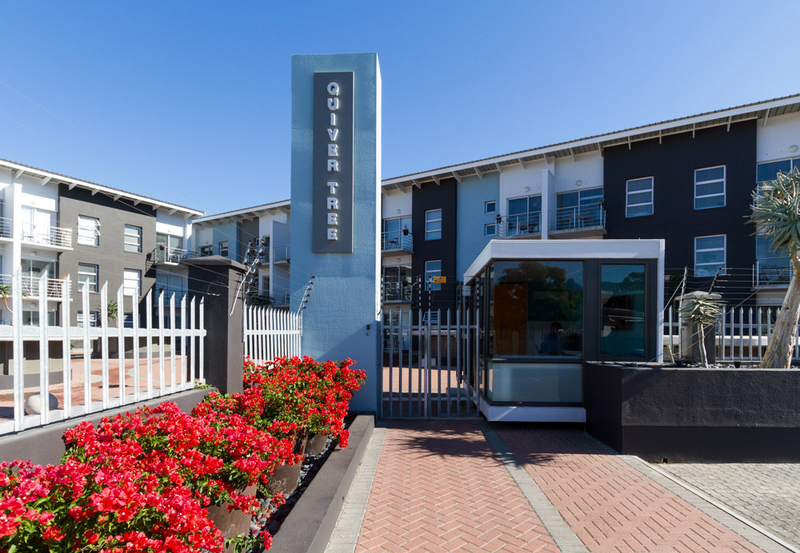 At
Quiver Tree Self-Catering Apartments
, we are all about living, creating and most of all, enjoying life. We urge our guests to become a part of Stellenbosch and our apartments are the ideal spot for your home away from home.
Quiver Tree Self-Catering Apartments are perfect for your holiday stay, work stay, long stay, wine stay, short business stay, visiting-your-uni-kids-stay, wedding stay, basically every stay.
Our urban block boasts with 44 fully furnished apartments that comes ready with free WIFI, DSTV, linen and towels and a cleaning service at an extra charge. Each apartment has a fully equipped compact kitchen, small dining area and/or desk for work, cozy bedrooms and a comfortable and relaxing living area. Each apartment has a balcony or patio overlooking the beautiful Stellenbosch mountains.
Not only is our nest right up your alley, we also thought about other important things like making housekeeping easy with a cleaning service available upon request as well as an on-site laundry. Best of all, you can rent this apartment on a long term basis and truly relax in your Winelands home.
Quiver Tree Self-Catering Apartments is close to all attractions and the surroundings. Its a short 5 min drive and 10 min walk to the center of town. The nearest grocery store is a quick 5 min walk. Jonkershoek Nature Reserve is a approximately 8 min drive from Quiver Tree and offers beautiful mountain bike and hiking trails which are highly recommended.
Quiver Tree Apartments is close to the N1 and N2 main routes which will take you to the airport in approximately 30 min. The property is access controlled and extremely safe with 24 hour security.
Each apartment is allocated an underground parking and we also have a safe space to store your bicycle on the premises.
Accommodation at Quiver Tree Self Catering Apartments:
Quiver Tree Self-Catering Apartments offer contemporary studio and two bedroom apartments.
The Nook
- Bedrooms: 1
- Bathrooms: 1
- 2 Single beds OR 1 Double bed
- Fully equipped kitchen
- Selected satellite television
- Laundry room on premises with washer and dryer
- Free and secure parking on premises
- Free WiFi
- Air conditioner
- Hairdryer
- Heater
- In-room safe
- Fresh linen and towels
- Coffee, tea, milk and homemade rusks (Initial morning following arrival)
- Cleaning service (Cleaning service available upon request ONLY at an extra cost R250.00 per clean)
The Grownup
- Bedrooms: 2
- Bathrooms: 1
- 2 Double beds (1 in each room)
- Fully equipped kitchen
- Selected satellite television
- Laundry room on premises with washer and dryer
- Free and secure parking on premises
- Free limited wireless internet
- Air conditioner
- Hairdryer
- Heater
- In-room safe
- Fresh linen and towels
- Coffee, tea, milk and homemade rusks (Initial morning following arrival)
- Cleaning service (available on request ONLY, at an extra cost of R250.00 per clean)