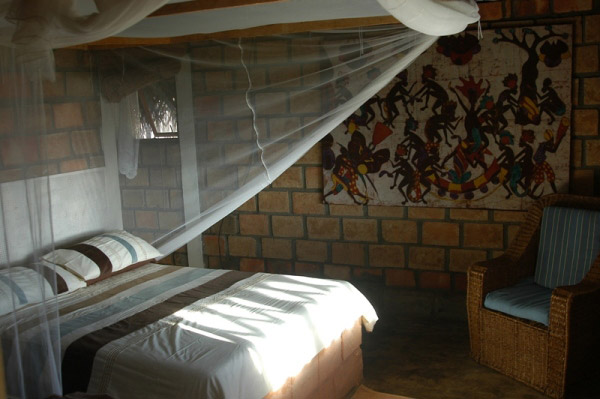 Pleasure Bay is situated approximately 485km north of Maputo in Mozambique. Our charming chalets are all built on the highest dunes and all have beautiful sea views overlooking the bay "Baia Das Correntes", which is protected by the "Lighthouse" Reef - one of the finest and most spectacular Coral Reefs in Mozambique.
We can also accommodate 4x2 vehicles which will be securely stored at the end of the sand road. We will then arrange travel to and from the beach on a daily basis. You will need a 4x4 to go down to the beach.
Vehicles are allowed to launch boats, canoes and kayaks from the beach into a beautifully protected Bay. You may also take your party and picnic goodies to the beach where you must park your vehicle. Driving on the beaches is not permitted. Quad bikes and motor cycles are not allowed on beaches in Mozambique!
Rooms:
The Chalets are fully equipped with all bedding, cutlery and crockery, deep freezers, gas stoves, gas geysers as well as 24 hour electricity. All Chalets are self catering , but if you so wish , accommodation on a dinner , bed and breakfast basis, can also be provided.
Pleasure Bay Resort Activities:
- Scuba diving and snorkelling
- Deep Sea Kayak and Jet Ski Fishing
- Whale and Dolphin Watching Safaris
- A seafood Restaurant and bar available
- Fly fishing, rock & surf fishing, also from kayaks
- Deep sea angling from ski boats (Marlin, Sailfish, Giant King Fish, Cuta, Tuna, Dorado, Rainbow Runner, etc).

Click to display the map