Escape to Oaklands Country Manor, set in a beautiful location where warm hospitality, phenomenal food and plenty to do is in store for all visitors.
Fill your days with activities like horse riding, walking and cycling. Also, host events such as weddings, parties and corporate functions.
Oaklands is just 3 hours drive from Johannesburg or Durban, nestled against a ridge above Van Reenen`s Pass in the Drakensberg foothills.
Oaklnds is your base for:
- Weddings
- Special occasions
- Corporate functions
- Battlefield tours
- Outdoor activities
Family Holidays
Oaklands Country Manor is a safe and child friendly environment, and families with children of any age are welcome at any time. Our wide selection of unique and exciting activities will ensure that your youngsters get the most out of their countryside getaway.
Children will love:
- Horse rides: supervised arena rides or outrides on our safe, well trained ponies.
- Fun and educational guided walks.
- Play room with TV and DVD player
- Trampoline
- Jungle gym
- Tree house
- Monkey rope swings
For the whole family
- Cycling: children and parents are welcome to bring their own bicycles
- Fishing: equipment is available at a R50 refundable deposit
- Tennis: equipment is available at a R50 refundable deposit
- Hiking
- Outdoor chess
- Paddling
- Swimming pool
- Table tennis
- Pool table
- Basketball hoop
All water activities are within safe viewing distance of the hotel.
Rooms:
Accommodation at Oaklands Country Manor is stylish yet homely, reflecting the comfortable countryside lifestyle which our stunning location affords. Though each suite and room is unique, common features include subtle African themed furnishings and exquisite views of the Manor gardens, Polo fields, and surrounding mountains.
Oaklands can accommodate up to 32 people at any time and guests of the Manor receive complimentary breakfast.
En suite rooms:
These are double rooms which come with an en suite bathroom, cosy fireplace and coffee station, as well as an outdoor patio with a table, chairs and umbrella. With the option of a queen sized bed or twin beds, these rooms are well-suited to couples.
Family suites:
Our family suites accommodate 4 people in a queen sized bed and 2 day beds. The suites are complete with a bathroom, two fireplaces, living room, television, kitchenette, and outdoor entertainment area. Webers are available on request.
Hilltop House:
Hilltop House sleeps 6 people and is ideal for larger groups. Guests are accommodated in a double room with a queen sized bed and en-suite bathroom, and 2 double rooms with twin beds and a shared bathroom. There is an open plan living room with a lounge and kitchenette, as well as an outdoor deck and braai area.
Oaklands Country Manor Activities:
Battlefield tours
Ladysmith is surrounded by several major battle sites where skirmishes broke out during the Anglo-Boer War. Besieged for 118 days, Ladysmith is remembered as a key point in the struggle for Natal. Oaklands can recommend informative guided tours of Ladysmith and the battlefields.
Birdwatching
One of the unique natural features of the countryside surrounding Oaklands Country Manor is a large wetland that is home to a rich variety of indigenous bird species.
Children's activities
Oaklands is the ideal family holiday destination with an exciting array of child friendly facilities in a safe and healthy country environment.
Cycling
Explore the beautiful KwaZulu-Natal countryside and take in the stunning views by bicycle. There is a safe marked trail on Oaklands Country Manor property and a number of trails in areas close by. Guests can bring their own bicycles or hire one at a refundable deposit of R50.
Fishing
Three stocked dams for all year round bass fishing are situated on the Oaklands property. Bass fishing is free of charge and basic rods and tackle are available for a deposit of R50.
Horse riding
Experience the natural scenic beauty that surrounds Oaklands on horseback. We are able to accommodate riders of all ages and skill levels, with outrides and arena rides for children, all facilitated by our expert riding staff.
Paddling
Oaklands' basic canoes are available free of charge and are suitable for adults and children of all ages.
Polo
Oaklands is a privately owned country district polo club with world class facilities including a floodlit polo arena, a polo pit, wooden horse, fully equipped classroom and beautifully schooled horses. We offer both introductory courses and expert tuition for the noble game from some of the top coaches in the country.
Spioenkop day trip
International visitors and history enthusiasts will particularly enjoy this day trip which begins with a fascinating tour of the Spioenkop battlefield, the site of one of the bloodiest battles of the Anglo-Boer War.
Tennis
Our court is located on Oaklands Country Manor property and use of the facilities is free, with a R50 deposit for basic equipment for all in-house guests.
Walking & hiking
Nature lovers can enjoy a number of easy walking trails on Oaklands property. We also offer informative guided trails led by local guides with extensive knowledge of local culture and history, as well as the various uses of indigenous fauna and flora.

Click to display the map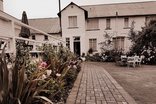 The beautifully restored Green Lantern Inn, originally established in 1892 as The Coach Inn, offers South African friendly rates, bed and breakfast included. There is a Pub and Restaurant on site.