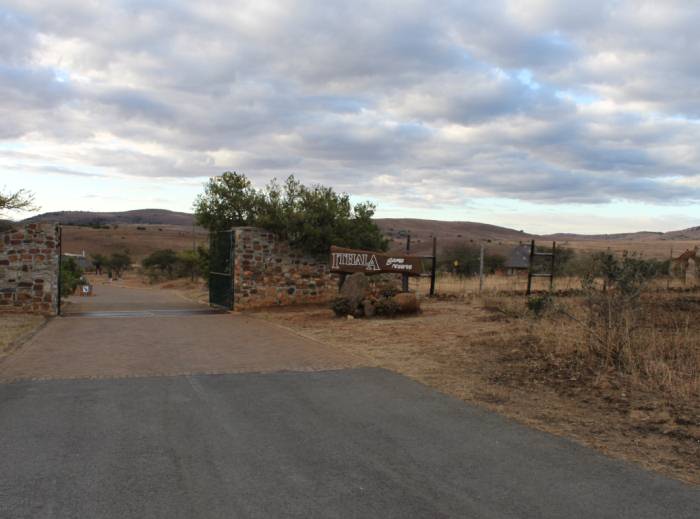 Ntshondwe Lodge
is an exclusive luxury lodge allowing complete privacy in spectacular surroundings overlooking the broad sweep of
Ithala Game Reserve
to the distant hills of Swaziland.
The lodge is situated in close proximity to
Ntshondwe Camp
, which boasts a fully licensed restaurant and bar, a fully equipped conference centre and an imaginatively stocked curio shop and convenience store.
High Season:
High season dates and rates are applicable from:
12 December 2018 to 8 January 2019
20 March 2019 to 8 April 2019
19 April 2019 to 22 April 2019
14 June 2019 to 15 July 2019
8 August 2019 to 11 August 2019
20 September 2019 to 6 October 2019
High season rates are also applicable over any events.
Ntshondwe Lodge
is very beautiful, situated below the cliffs overlooking Ntshondwe valley:
- 3 Bedrooms (en-suite), one of them with a double bed
- Kitchen with a gas stove
- Freezer, fridge
- Lounge and dining room
Facilities:
- DSTV Compact
- Ceiling fans
- Oil heater in all rooms
- Fireplace in lounge
- Swimming pool
- Braai area
- Washing machine
- Microwave
Ntshondwe Lodge is wheelchair accessible and visitors get a cook on request
Enjoy late afternoon sundowners in safari style on the atmospheric sun deck, surrounded by wildlife and bushveld scenery to add to a memorable experience of Africa.
The viewing deck has a small plunge pool to cool down in on hot summer days and a barbecue area overlooking the valley below.
VISITOR FACILITIES NTSHONDWE:
- Ntshondwe resort nestles on the slopes of the Ngotshe plateau and commands spectacular views of the reserve. Accommodation consists of 39 two to six-bed chalets and a luxury lodge with its own swimming pool.
- Self catering Chalets are fully-equipped, self-contained and serviced, having one or more bedrooms, lounge/dining-room, bathroom, toilet and kitchenette equipped with cutlery, crockery, stove and fridge.
- Linen is provided. You are required to do your own cooking.
- 28 Conference Chalets can accommodate 56 guests in twin bedded rooms with bathroom, DSTV, small fridge and tea/coffee making facilities.
- The lodge, which has similar facilities, is a six-bed, en suit three-bedroomed unit and is luxuriously appointed.
- The lodge is built in a saddle between two high points and looks out over the reserve.
- Please provide your own food and beverages.
- However, the nearby reception complex offers a licensed restaurant with a take-away facility and bar as well as a small shop at which basic provisions, curios, books, charcoal and photographic film may be purchased.
- The restaurant complex is situated beside a waterhole at which a variety of animals come to drink.
- There is a wonderful swimming pool, which is set amongst a group of very large boulders in the grounds of the camp, available to residents.
- A modern, well equipped conference centre provides an excitingly different venue for meetings and symposia.
- This facility is set in pleasant surroundings adjacent to the main camp, to ensure a disturbance-free conference.
- It caters for 90 delegates in the main venue and has two additional break-away rooms which can accommodate 18 delegates each.
- An atmosphere has been created which is conducive to a successful conference while making available the tremendous range of facilities which Ithala has to offer.
Ntshondwe Lodge - Ithala Game Reserve Activities:
Itala Game Reserve offers a wealth of activities for visitors:
A number of self-guided trails traverse the wooded mountainside above Ntshondwe camp, inviting guests to enjoy glimpses of the indigenous wildlife while stretching their legs. The sight of black rhino and elephant droppings along a path adds a rush of adrenaline to the experience.
Rhino occasionally enter the camp at night,therefore visitors are advised to exercise caution when walking around the camp at night.
Day and night drives are conducted in open viewing vehicles and are a popular tourist attraction in the reserve.
Ithala has a number of well laid out auto trails with markers at points of interest. These enable visitors to discover and appreciate aspects of the reserve's fascinating wildlife and geology in the comfort of their own vehicles.
Picnic sites are situated in several scenic spots which offer spectacular views and are ideal for game watching. These all have barbecue facilities and toilets.
Visitors may hire a field ranger for half a day or a full day and go walking in various parts of the reserve to view wildlife, rock formations or just to swim in one of the crystal clear river pools.

Click to display the map
Beautiful reserve and accommodation with a very nice and appropriate ambiance in this environment. Staff was very friendly.
We stayed at Mbizo camp in Ithala game reserve and were really pleased with it. The accommodation and facilities are of a good standard for a bush camp - the kitchen was clean and had everything we needed, the shower and toilet facilities were also clean and the beds were really comfortable. However, what makes this camp really special is the river and natural rock pools for swimming in which were just stunning. It was a real treat to feel totally on our own in this beautiful landscape. The team at the main reception in Ntshondwe Lodge were also very friendly and helpful.
We had a wonderful time staying at the Lodge for 3 days. The view over the Reserve is amazing and the full moon on New's Year's Eve fantastic! Certainly worth the extra cost over the chalets. The staff and facilities were first rate. The only reason I cannot give a 5-star rating is that we were advised that the Lodge came with a cook. This is NOT the case. There was a very helpful lady who did lots of washing up and ironing for us though. Otherwise it was a fantastic experience and highly recommended. The topography of the Reserve has to be seen to be believed!