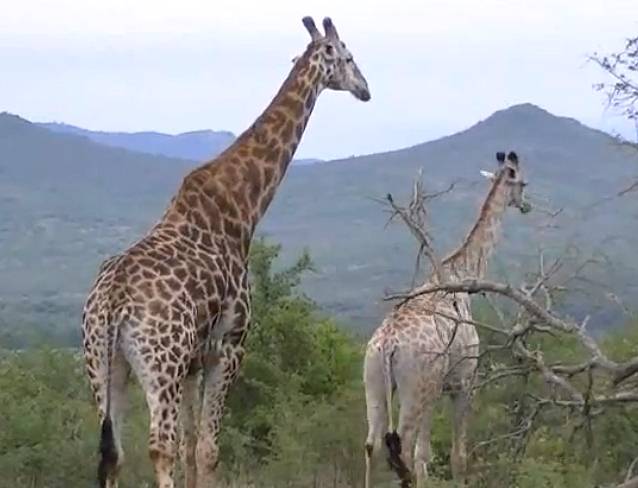 Overlooking the Hlonhlela pan with its hazy green border of fever trees, in the
Mkuze Game Reserve
, the
Nhlonhlela Bush Lodge - Mkuze Game
Reserve is a bird-watchers paradise.
Echoing to the call of the African fish eagle, hippos and crocodiles float in the green shallows and a diverse range of animals move around the shore to graze, brows and drink.
Visitors needs are attended to by staff who cook and clean and a field ranger who accompanies guests on walks into the savannah and sand and fig forests of Mkhuze Game Reserve.
Visitors to this private and tranquil piece of the African bush can enjoy the area reserved for their exclusive use, go walking, or they can visit one of the three excellent hides to watch the constant procession of wild animals coming down to the water holes for their daily drink.
Visiters must bring all their food and drink requirements with them though limited supplies can be bought at the camp shop at Mantuma. The lodge is served by solar powered lighting. Good torches and a gas light are recommended.
Mkhuze is a malaria area so suitable precautions must be taken.
Accommodation at Nhlonhlela Bush Lodge - Mkuze Game Reserve:
Four two bed sleeping units with en-suite shower and toilet are connected to the central lounge and dining area by wooden boardwalks.
A sun deck and fully equipped kitchen complete the facilities.
High Season:
High season dates and rates are applicable from:
12 December 2018 to 8 January 2019
20 March 2019 to 8 April 2019
19 April 2019 to 22 April 2019
14 June 2019 to 15 July 2019
8 August 2019 to 11 August 2019
20 September 2019 to 6 October 2019
High season rates are also applicable over any events.
Whilst rustic, the accommodation was clean, neat and reasonably well maintained. The accommodation huts could do with a little maintenance here and there. The staff were friendly, helpful and kept in the background so as not to seem to be intruding on the visitors.
Lovely setting but the establishment is requiring some maintenance. It is looking tired. Board walk rotten, septic tanks overflowing and solar lights not lasting the evening. We knew that from last years experience so had our own lighting. Saying all that, the staff are fantastic and I would book again.
Beautiful location and setting, wonderful views. Great lodge for a group. Friendly staff: Lindiwe and Joel. Bathrooms in need of attention. Indications of which roads in the reserve are only to be used by four wheel-drive vehicles would be useful. Thank you.
The setting, being away from the main camp was fantastic. The assistant, Jester was very pleasant, in the background but we did not require her services in terms of cooking, but she did offer. The only negative I feel is that the facilities should be checked before visitors arrive, The deep freeze was not working and the curtains had fallen off the tracks, very simple to rectify and would create a better first impression. If the staff are aware that visitors are due the deep freeze and fridge should be switched on before their arrival so that they are already cold. Besides that I would go back tomorrow and we really enjoyed ourselves. Thanks Maureen