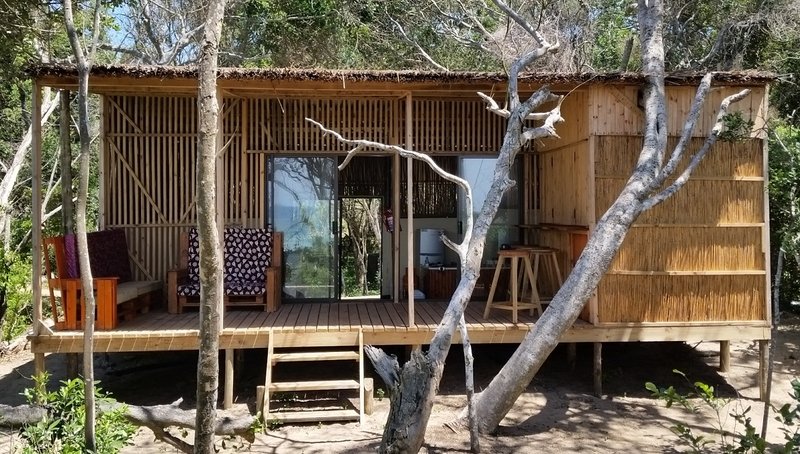 Moya means `air` in Changana, the local language spoken in the south of Mozambique. At
Moya Eco Lodge
, you will be surrounded by freshness, blue sky, crystal clear ocean, deserted beaches, untouched nature and beautiful people.
Moya Eco Lodge
is a self-catering lodge but offers all meals on request. We have a fully equipped communal kitchen containing gas stoves, fridges, dishes, cutlery, etc. The kitchen has a dining area, a BBQ area and a large veranda with sea view. We also have a small bar and sell ice.
Accommodation at Moya Eco Lodge:
Moya Eco Lodge contains 4 luxury tents located just behind the dunes, around 20m from from the beach.
All tents have an on-suite bathroom and a large veranda with sea view.
The lodge is largely build with local or recycled material such as pallets.
Moya Eco Lodge is a little jewel that we would recommend to people who like peace and quiet and enjoy the outdoors. The beach and coastal forest is spectacular with amazing plants/butterflies/birds and even some elusive Samango monkeys. Our accommodation was clean and tidy and the staff friendly and helpful. We drove from Kosi border via Pedro and stopped at a bar/restaurant called Rainha's Place (Momoli) to ask for directions to Moya and she kindly called Rafael who accompanied us all the way to the lodge as there are different routes to the Lodge and one can get lost. She makes a mean great Prawn and Salad dish! A 4x4 is a must since the roads are mainly sandy tracks! We will definitely be back!!