Welcome to your home away from home. That's how we feel about
Mont d'Or Bohemian House, Pretoria
and that`s how we want you to feel each time you stay with us. With just 10 rooms, the Bohemian House offers a relaxed, intimate, old-world charm that ensures we have many guests who return to the Bohemian House again and again, from all over the world.
Enjoy breakfast in the dappled shade of our secluded courtyard garden. Venture out through an archway from the pool and you'll find yourself in our beautiful, secluded courtyard garden . Every morning we serve breakfast on the terrace, overlooking trees, a fountain, winding paths, and even classical busts which add a touch of European flavour to Pretoria.
We'd love to introduce you to our spa. There`s nothing like unwinding after a long journey to revive tired muscles with a relaxing massage by a professional therapist, or indulging in some luxurious, attentive comfort with a loved one or friend.
Your host Francois doesn't just run one of Pretoria's finest guesthouses, he's also an excellent chef. Give him a menu, or even just an idea, and watch the magic happen.
Facilities and Services:
- Breakfast included
- Free wifi access
- Air conditioning
- Mini-fridge
- Tea and coffee facility
- Swimming pool
- DSTV
- Dining Room
- On-premises spa
Accommodation at Mont d`Or Bohemian House Pretoria:
No two rooms at Bohemian House are alike. This is thanks to the guesthouse's founders, both inveterate travelers, who accumulated an incredible collection of art, furniture and decorations from all over the world that continue to furnish our rooms and make each one unlike any other.
Choose from 10 rooms celebrating French impressionism to Egyptian textiles and more – each one adding an adventurous ambiance to your stay.
- 2 rooms contain king size beds.
- 8 rooms contain queen long beds.
- Each room has an en-suite bathroom.
- Fresh white linen and a carafe of Old Cape Port await you upon your arrival.
Bathrooms: 3 rooms are equipped with both shower and bathtub; 7 rooms has a shower only. If you have a specific request, please mention it when you book.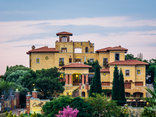 Castello di Monte is a Five Star Guest House, situated in Waterkloof Ridge, Pretoria. The Tuscan style estate portrays pure luxury and elegance and offers spectacular views of the hills in and around the capital city.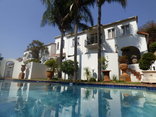 The Capital House has hosted presidents, foreign ministers, generals and numerous diplomatic guests. We are very well acquainted with all aspects of high level security.
From:
R800.00
per person sharing
Maison Sur Le Parc is a luxurious guest house, offering 6 uniquely designed suites, situated in the popular and exclusive green belt suburb of Waterkloof Ridge.
Tweyamo Guest House is a modern country house situated in the upmarket leafy suburb of Waterkloofridge Pretoria. We have 7 spacious and elegantly decorated rooms. All our rooms have king size beds. Our honeymoon suite has an extra room.
From:
R400.00
per person sharing
High on the Ridge in Waterkloof Pretoria lies Bohemian House offering the comfort and services of a luxury hotel but the tranquility of a sought after guesthouse. This 5-Star guesthouse is family owned and managed by the owners.