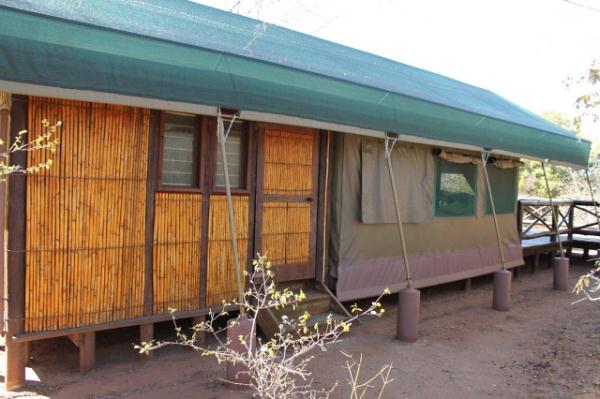 A place of great beauty and high contrasts,
Mkuze Game Reserve
is renowned as a mecca for bird lovers with more than 420 bird species on record.
The Mkuze River curves along the reserve's northern and eastern borders with a fine stretch of fig forest along its banks. Fish eagles swoop over the pans, snatching prey spotted from their perches in the fever trees.
The reserve has an astonishing diversity of natural habitats, from the eastern slopes of the Lebombo mountains along its eastern boundary, to broad stretches of acacia savannah, swamps and a variety of woodlands and riverine forest. A rare type of sand forest also occurs in the reserve.
IMPORTANT NOTICE REGARDING CONSTRUCTION AT MKUZE GAME RESERVE:
We wish to draw your attention to the following important notice received from Mkhuze Game Reserve – "Kindly be advised that some of the roads at Mkhuze Game Reserve are closed due to constructions. Construction noise and movement may be felt from 06:00 to 18:00. With immediate effect the main water supply at uMkhuze will be shut off during non-peak hours. Water will continue to be supplied to Mantuma Camp and other accommodation facilities during the hours of 17h00 – 21h00 and 05h00 – 09h00 daily. Visitors are requested to carry additional drinking water for use during the shutoff periods."
Please note that we are unsure as to the duration of the constructions. We kindly request that you take note of this message whilst the constructions are underway and that it is beyond our control. We also kindly request that you exercise patience as you may experience excessive noise and discomfort due to the constructions.
Accommodation
Accommodation in the Mkuze area can be found in
Game Lodges
and other
accommodation options.
Within the game reserve the
Mantuma Camp
offers accommodation in the form of safari tents and chalets - all self catering - as well as the
Nhlonhlela Bush Lodge
.
Wildlife
This diversity of habitats means a wide variety of animal species including black and white rhinoceros, elephant, giraffe, nyala, blue wildebeest, warthog, eland, hippo, impala, kudu and other smaller antelope. Rare species occurring in the reserve are cheetah, hyaena, suni and leopard.
Three game viewing hides have been constructed next to the Kubube, Kamasinga, Kwamalibala pans. Visitors park their cars and enter the hides on foot.
Depending on the surface water in the reserve, but normally during the drier winter months,large concentrations of game may be seen at the waterholes.
Visitors are therefore offered excellent views of most of the reserve's larger mammals. These hides offer unique opportunities to photographers and many famous wildlife pictures have been taken there.
Two beautiful pans, Nhlonhlela and Nsumo , lie in the north and east respectively, home to communities of hippo, crocodile, pinkbacked and white pelicans, as well as a diversity of ducks and geese which gather in spring.
A Zulu cultural village in the reserve offers a glimpse of the traditional lifestyle and crafts of the KwaJobe community.
High Season:
High Season dates applicable for 2018:
12 December 2018 to 8 January 2019
20 March 2019 to 8 April 2019
19 April 2019 to 22 April 2019
14 June 2019 to 15 July 2019
8 August 2019 to 11 August 2019
20 September 2019 to 6 October 2019
Mkuze Game Reserve Activities:
Birding, game viewing and sitting quietly in the three game viewing hides are the most popular activities in Mkhuze. Night drives, guided walks, the auto trail and swimming are also available.
The reserve has 100 kilometers of tourist roads for game viewing.
Guided night drives are undertaken weather permitting.
Guided
Game Walks
can be booked at the camp office and these take place twice daily starting at 06h00 in summer, and 15h00 in winter.
Birding in Mkhuze offers some of the best birding opportunities in South Africa and with a bird list of 420 species is excellent all year round.
Guided birding walks may be booked at the camp office, and these take place twice daily starting at 06h00 in summer, and 15h00 in winter. Checklists are available from the curio shop.

Click to display the map
Health & Climate:
Mkhuze is in a malaria area and special precautions are necessary.
Accommodation average. Lots of basic maintenance required to make it superb. Such potential. Birding phenomenal. As for the big 5- we did not hear any nor see any. Questionable.
Not a lot of animals. I love the staff so friendly and helpful.
Had a good time in the Park, didn't see too many animals.
The layout of the unit we were in was great and worked for us as a family. It was comfortable but really does need some TLC - duvet covers need replacing, kitchen area needs a total revamp, the tent does not zip up! Although we didn't see much any of the big five the park is looking beautiful.