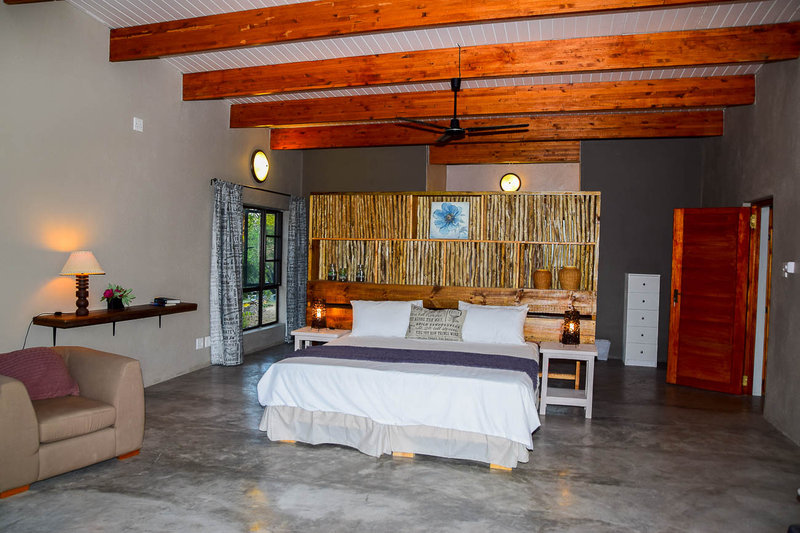 Accommodation at
Mananga Private Bush Retreat
- Set apart from the renowned Protea Hotel Kruger Gate in the magnificent African bush is the privately owned Mananga Private Bush Retreat.
Each of the two rooms is luxuriously appointed and has its own private patio door, en-suite bathroom and unique interior and setting. Mananga Private Bush Retreat has a fully equipped kitchen, lounge area and a spacious patio surrounded by the prolific birdlife and general game roaming freely.
This is truly the perfect setting to have your evening sun-downer overlooking the African Bush.
Accommodation at Mananga Private Bush Retreat:
Entrance: - Coat Hanger
Fully Equipped Kitchen: - Large Fridge; 6 Plate Gas Stove, Dishwasher and Oven; Microwave; Toaster; Kettle; Cutlery (set of 12); Crockery (set of 12); Juice, beer and wine glasses and mugs (set of 12); Pots and Pans; Coffee Plunger; Pyrex Dishes; Braai Utensils/meat bowl; Wine/Bottle Opener; Strainer; Placemats; Salad bowls/Spoon, etc.
Lounge: - Lounge Suite; Full DSTV package; DVD Player/DVDs for kids; Private Library; 2x Ceiling fans; 3x Standing Lamps
In the Rooms: - Depending on which room, the facilities might vary slightly, but the following will be found in each room;
Soft duvets or comforters, pillows and cotton linen: King size bed and 1 single bed; desk with chair (only in one of the rooms); air conditioning and ceiling fans; two-seater coach in the one room and two arm-chairs in the other room; sleeper coach (Both rooms); chest of drawers and cupboard space; standing mirror; headboard and side tables.
Facilities in bathrooms: - All towels are super-absorbent cotton; liquid hand soap; toilet paper; hairdryer; body wash/shampoo.
Patio: - Outside gas braai; patio furniture; patio dinner table and chairs.
Mananga Private Bush Retreat Activities:
Things to do:
Safaris, Panorama Tours, Horse Riding, Quad Biking, Paintball and many more.
All reservations for activities, safaris, scenic tours or transfers can be made via our sister company Private Kruger Safaris.

Click to display the map