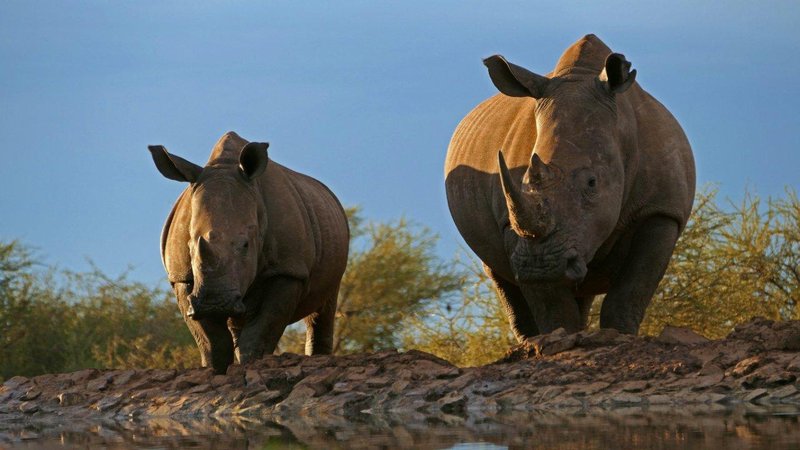 The
Madikwe Game Reserve
belongs to the latest park developments in South Africa. It was opened in 1991 and comprises 75000 hectares of bushland north of the small town Groot-Marico up to the Botswana border.
Madikwe Game Reserve Travel Guide
It is currently the fourth largest game reserve in South Africa and one of the best-kept secrets.
The terrain is mainly open grasslands and bushveld plains, interspersed with rocky outcrops and single mountains.
Madikwe Game Reserve is regarded as one of the finest conservation areas in Africa, offering all the major species, including lion, leopard, elephant, buffalo, both white and black rhino along with almost all the plains antelope species.
A special feature of Madikwe lies in its unique location, a transition zone on the edges of the Kalahari, where a number of rare species occur naturally.
The climate is generally mild to hot, but winter nights can be cold.
Over 350 species of birds have been recorded at Madikwe including many interesting raptors.
Madikwe Game Reserve creates an aura of its own - an almost mystical splendor and a unique escape for those who seek to experience a dawn view of untamed Africa.
Please note
Madikwe Game Reserve is not open to day-visitors.
Lodges in Madikwe Game Reserve:
The following lodges are situated within Madikwe Game Reserve:
Impodimo Game Lodge
- carved from the hillside, eight glass fronted luxury chalets line a natural spring, each enjoying striking views.
The Bush House
- with only six en-suite air-conditioned bedrooms a personal, relaxed and friendly atmosphere is guaranteed.
Madikwe River Lodge
- the main building and 16 chalets are built in thatch and beautifully appointed - all opening onto wooded viewing decks overlooking the Groot Marico River.
Madikwe Safari Lodge
- offers intimate accommodation with sweeping views over the game-filled plains with the Dwarsberg range forming a purple-hued backdrop.
Makanyane Safari Lodge
- consists of a beautiful main building and eight stunning suites, which lie hidden in the lush forest, offering spectacular views over the tranquil Marico River.
Mosetlha Bush Camp and Eco Lodge
- offering a genuinely rustic wilderness experience - at affordable prices. Oil lamps, safari showers, meals cooked on an open fire and raised wooden cabins promise guests a true safari adventure.
Tau Game Lodge
- overlooks a vast natural waterhole, which attracts a variety of game, the lodge was designed to reflect the natural surroundings and makes use of the natural resources wherever possible.
Madikwe Hills Private Game Lodge
- traversing over 75,000 hectares of true, untamed Africa and set in magnificent koppies amongst boulders, Madikwe Hills gently ebbs to the pulse of Africa's drumbeat.
Tuningi Safari Lodge
- offers visitors exclusive bush villas, designed to create space by blending interiors with the bush through utilising retractable doors and windows wherever possible.
Thakadu River Camp
- set within the riverine canopy on the banks of the Marico River the camp comprises of 12 tented suites, each with their own viewing deck overlooking the river.
Buffalo Ridge Safari Lodge
- offering a very private experience, Buffalo Ridge Safari Lodge has 8 uniquely decorated suites, each with own deck. Activities include open vehicle game drives, walks, tracking, stargazing, bush dining, birding, botany interests.
Motswiri Private Safari Lodge
- offers a maximum of 10 people a bush experience which is impossible to replicate in larger concerns.
Jaci's Safari and Tree Lodges
- offers two exceptional, privately owned lodges, run by their owners.
Rhulani Safari Lodge
- Offers luxury accommodation with your own plunge pool, game drives and bush walks with trained guides.
Royal Madikwe
- Offers luxury accommodation with your own plunge pool, game drives and bush walks with trained guides.
Madikwe Game Reserve Accommodation Options
Why Madikwe Game Reserve:
- Malaria Free
- Home to the Big 5
- Wild Dog Reserve
- Full Board Lodges
- 3.5hrs Drive from JHB

Click to display the map
More Info:
If you are coming from any of these major cities, here are the estimated driving times when there is no traffic:
- Botswana- Gaborone Airport (1-2 hours)
- Zeerust (1 hour)
- Johannesburg Airport (4-6 hours)
- Pretoria (4-5 hours)
- Madikwe Game Reserve lies on the South Africa/ Botswana border. It is accessible from a few major South African cities/ towns within a few hour drive and only a 1-2 hour drive from Gaborone airport in Botswana.
These are the main gate entrances into the reserve:
- Wonderboom Gate
- Tau Gate
- Abjaterskop Gate
- Motledi Gate
- Derdepoort Gate
Most of the lodges and camps on the western side of the park are accessed via the Wonderboom Gate while accommodation in the eastern and central part of the park is largely accessed via the Abjaterskop Gate.