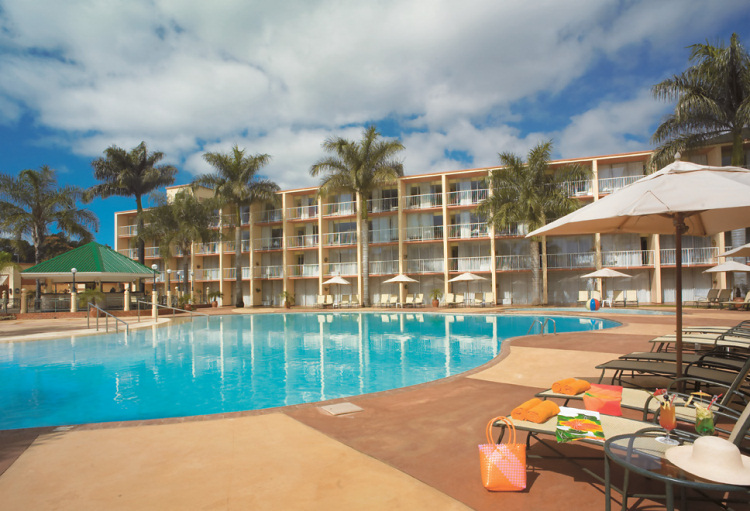 Fun and festive this hotel is as warm and as welcoming as a Swazi smile. We invite you to bathe and relax in this warmth.
Lugogo Sun
residents may also use the facilities at the Royal Swazi Sun, including The Spa, the Casino, squash courts, lawn bowls as well as the golf course at the Royal Swazi Spa.
Spa
Highly qualified therapists specialise in a range of stress-relief, beauty and slimming therapies. Guests have an opportunity to relax in the lounge before or after treatments, and enjoy complimentary herbal teas, fruit juices and freshly sliced fruit.
Dining & Bars
Ilanga Restaurant
A delightful breakfast and dinner is served daily, with regular theme evenings being a main attraction. A magnificent buffet lunch is served on Sundays from 12h5O -15h00 with live entertainment.
The Sportsman`s Bar
Situated just off the main foyer, this sports themed bar is ideal for refreshments any time of the day. Televisions are perfectly located for all-round viewing of your favourite sports event. Wednesday night is "Pub Night" with live entertainment and competitions.
Sun Conference Room
A private, modern room situated on the first floor, with seating capacity for up to 30 delegates. An ideal venue for meetings, private breakfasts, lunches dinner and cocktail parties.
Please note:
Over a weekend you are required to stay a minimum of 2 nights.
Accommodation at Lugogo Sun
The rooms consist of 199 twin rooms and 3 mini suites. All the rooms, excepting the suites, have two double beds with en-suite bathroom and shower, and are equipped with television, radio, hairdryers, tea and coffee facilities and telephones.
A number of rooms are interleading.
In-room dining is not available; however, special requests are accommodated.
Standard In Room Facilities:
* Air Conditioner
* Hair Dryer
* Bathroom on Suite (Shower over bath)
* TV
* Telephone
* Electric shaver plugs (110-220 volts) – in the bathroom
* Tea/coffee making facility
* Limited in-room dining is available
Mini Suites :
* 3 Mini Suites are available
* King Size bed
* Private bathroom and shower
* Lounge Area
Double Rooms:
* 199 Double Rooms
* Two double beds
* En suite bathroom and shower
* Interleading rooms are available
Kamp Kwena
Get peace of mind that your kids are being taken care of while you play a round of golf or relax at the spa. This service is for kids aged 4 to 12 years' old and is a complimentary entertainment and activity programme. A fully-equipped playroom and playground is also available.
It was good and food was good.
Nice standard hotel, clean, staff very friendly and helpful. Breakfast selection was good. Buffet dinner choices were good. Lovely pool and pool bar. The New Year's Eve dinner and dance at the Royal Swazi Sun was awesome, fab decor, music and great food. Stunning fireworks display. The only irritation were the sliding door that need to be serviced.
Standard hotel with no surprises. Exactly what you require for a nice, but not personalized stay.