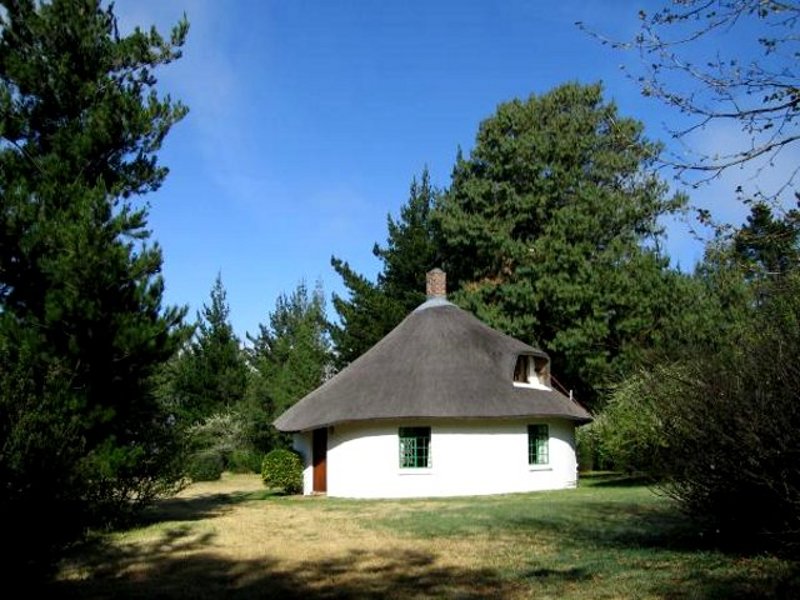 Lothlorien is located in a cul de sac which adds to its privacy.
It is an ideal romantic getaway for honeymooners and couples or families wishing to escape to the refreshing and magical atmosphere of the mountains in Hogsback.
From Lothlorien you can enjoy the magnificant views of Thyume Valley and the Hogsback Mountains.
The Cottage
the Cottage sleeps from 1 to 7 persons and children are welcome.
Double bedroom with queen size bed (ground floor).
Four single beds upstairs on an open plan mezzanine floor. One pair of beds can be moved together.
A large sofa in the lounge can comfortably sleep an adult (the 7th person)
Bedding (linnen, duvets, blankets and pillows) provided for first 6 persons which should keep you cozy especially during the Winter when snow may fall.
Please bring own bedding for the 7th person.
Fully furnished for your comfort:
The Lounge is spacious with comfortable couches, easy chairs and a coffee table. Dining area has a large dining table that comfortably seats 6.
Collection of family games, puzzles and a selection of books and magazines provided.
Cozy JetMaster fireplace in lounge area.
Bathroom with a large shower, bath and toilet (ground floor).
Large electric geyser for hot water. Towels are provided.
Fully equipped kitchen
The kitchen includes:
* Microwave oven
* Large combination fridge/freezer
* Mini oven with dual hot plates
* Kettle
* Crockery, cutlery, pots and pans
There is a new Braai/barbeque area near cottage that is fully lit at night by a switch in the cottage. It also has a very large table with seating for braais under the stars on warm summer nights. A sun umbrella is provided.
The place was attractive, the children loved the round house and the sleeping loft and all the space to play in outside. Parents down below suffered a lot of thumping and banging above their heads but that's children...Beds and furnishings and kitchen - all comfortable and complete. The firewood arrived on request - luckily we'd been warned about this beforehand so we had firelighters etc. The driveway is rather muddy and the car almost got stuck. We had to fetch the keys from the office at The Edge, which we only found out once we'd arrived. Beautiful warm sunny weather. Glad there was no snow. Thank you.
We really enjoyed our short stay in the cottage and would definitely like to return for a longer period of time. It would have been nice to have a couple of more comfortable couches in the lounge to enjoy the fire from, but generally we were very happy with the accommodation.