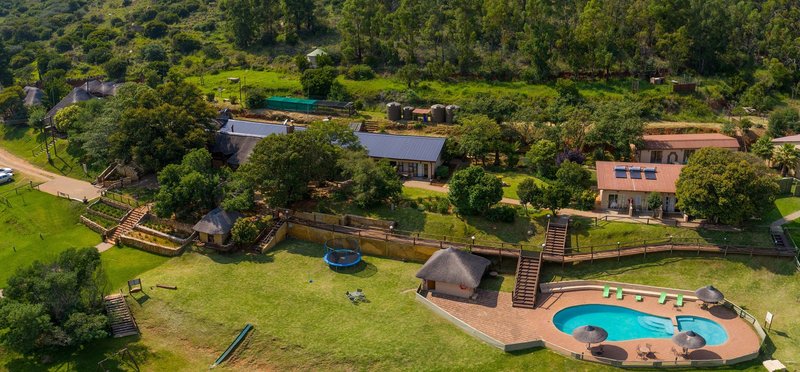 Lionsrock Lodge
is situated 18km outside of Bethlehem, of which 13km is a good gravel road. Lionsrock Lodge is a three star establishment offering visitors special service and value for money.
Lionsrock Lodge is open for the public and is a unique combination of animal welfare and tourism destination, offering a wide range of activities for its guests: game drives, bird watching and hiking trails as well as trips to the nearby Golden Gate National Park, Clarens or Lesotho. Lionsrock Lodge with its restaurant and bar is situated inside the park and offers accommodation for about 55 guests ranging from self-catering chalets to double rooms.
Lionsrock Lodge is also Pet-friendly: All pets are welcome all year round. Bring own pet beds, bedding and bowls. Easy access to walking trails for you and your pets. Dogs must be leashed at all times when outside. Consideration must be given to resident dogs Jazz and Afra, the horses, wildlife and our other guests. Prior arrangement is essential. No daily fee or Damages Deposit Required.
Animals, rescued from around the world, have a safe haven at Lionsrock Lodge where they can live in peace and tranquility, free at last, their individual cases unique and special.
At Lionsrock Lodge we know that each guest is an individual, unique and special. We offer you a safe haven from the stresses of daily life, a place to relax and rejuvenate in an environment infused with the serenity of country living.
Enjoy a restful night's sleep in our comfortable and well fitted accommodations, tasty meals to suit all occasions and needs, join us on informative walks and game drives and be spoilt by our warm and friendly staff.
At the end of the day, while you reflect on the day's activities or enjoy a sun downer, listening to the lions roar, you can smile secretly to yourself, knowing that the time and money you have spent at Lionsrock Lodge has gone directly for the benefit of our rescued animals and that you have made a significant contribution to their welfare.
Lionsrock Lodge accommodation:
Luxury Double Rooms
Featuring each a patio offering a spectacular view over Lionsrock - Big Cat Sanctuary. These spacious rooms include flat-screen TV and coffee and tea facility and a spacious bathroom with shower.
Chalet for four
Spacious, wooden self-catering chalet with bathroom, featuring a barbecue on the veranda overlooking the bush. The kitchen includes an oven, microwave and stove, and opens into the lounge with fireplace and satellite TV.
Chalet for six
Spacious, wooden self-catering chalet with bathroom, featuring a barbecue on the veranda overlooking the bush. The kitchen includes an oven, microwave and stove, and opens into the lounge with fireplace and satellite TV.
Self-catering apartments
Featuring a patio overlooking the Big Cat Sanctuary, this spacious self-catering apartment includes a lounge with flat-screen TV. The kitchen provides an oven, fridge and microwave.
Standard Double Rooms
Twin beds, en-suite bathroom Overlooking the bush and Lionsrock Mountain, this room features a TV and tea/coffee facilities.
Activities at Lionsrock Lodge:
- Game drives
- Hiking trails
Pool
After an informative game drive or hike through the bush and mountains, what better way to unwind and relax than beside the pool listening to the lions roaring in the back ground? Refresh yourself by taking a dip in the sparkling water before embarking on your next adventure. The swimming pool also has a section that can accommodate toddlers, so enjoy spending time and having fun with your family.
For the Children
Lionsrock Lodge is fully equipped to meet the needs of children – they are our future. Bringing your family and especially children to Lionsrock provides them with special opportunities for learning and growing that they so rarely have the chance to experience in the city. Being in open spaces, learning about animals and nature and being together with family is what its all about. Enjoy our reading corner with a variety of wilderness books, walking trails, a play park and swimming pool but most of all encourage your children to enjoy the moments of peace and tranquility away from the busy life back home – they may just surprise you!
Day Visitors:
Gates open at 08:00 am and close at 17:00 pm Day Visitors leaving the park will be issued with a "Pass-out / Paid in Full" card. No visitor will be allowed to leave the park without the card.
Lionsrock Lodge Map:
---
It was an excellent weekend, didn't expect so much professional staff. The service and food was of outstanding quality. Thank-you again!
Rating:
Reviewed by Ansie Beer over a year ago
---
Accommodation is excellent, service is brilliant.
Rating:
Reviewed by Estelle van Zyl over a year ago
---
We had a wonderful time. The staff was very friendly and helpful.
Rating:
Reviewed by Lee-Anne De Jager over a year ago
---
All I can say, it was excellent. It was not overcrowded. Food, service and rooms are excellent. Staff is very friendly. I will definitely go again.
Rating:
Reviewed by Mrs M Erasmus over a year ago