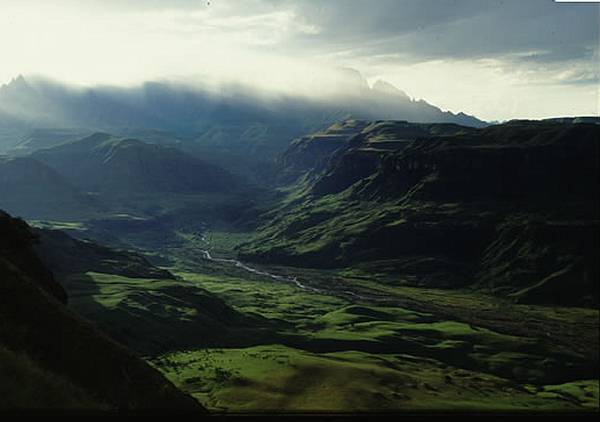 Injisuthi is a hutted camp in the northern section of the
Giants Castle
area of the Ukhahlamba Drakensberg Park. It offers breathtaking scenery, superb hiking and mountaineering.
This hutted camp is cradled between the
Injisuthi
and Cowl Fork rivers at the head of the Injisuthi Valley. It is surrounded by magnificent scenery and is dominated by Cathkin Peak, Monk`s Cowl and Champagne Castle.
Introduction to Injisuthi:
Situated in the central section of the Maloti- Drakensberg Park, Injisuthi is cradled between the Injisuthi (or Little Tugela) and Cowl Fork Rivers at the head of the Injisuthi Valley.
It is surrounded by magnificent scenery and is dominated by Cathkin Peak, Monks Cowl and Champagne Castle.
What To Do On Arrival
Please check in at the reception office on arrival.
Reception office hours are between 08:00 - 12:30 and 14:00 - 16:30 daily.
Accommodation may be taken up from 14:00 while check out time is 10:00 on the day of departure.
If you arrive after hours, please refer to the accommodation schedule outside the reception office.
General Info for Injisuthi - Drakensberg:
- It is essential to obtain an exit permit from the reception office before your depature.
- No pets of any kind are permitted in the reserve.
- NB: No fires are allowed.
- Hikers must also please remember that only official overnight camp stops may be used.
- Spades and trowels must be carried for toilet use.
- No petrol or oil is available.
- No wood may be collected in the park.
- Charcoal and wood are sold at the curio shop.
- Limited basic groceries are available at the reception office.
- Please provide all your own food and drinks as the nearest town is Estcourt, 60 km away.
- No generators are permitted in the campsites.
- Motorcycles may only be used as transport to and from the park or within the camp area.
Gate entry times:
Summer (1 October - 31 March) 05:00-19:00
Winter (1 April - 30 September) 06:00-18:00
Fridays
Summer (1 October to 31 March) 05:00-20:00
Winter (1 April - 30 September) 06:00-19:00
IMPORTANT Road access notification
Due to the poor state of the last 2-3km of the dirt road within the Park, we strongly recommend that only off road type vehicles with a high ground clearance are used to access the resort. Please be aware that the tar road to Injisuthi after the turn off from the Loskop road is very badly potholed and must be driven with caution.
Accommodation at Injisuthi:
- Fifteen four-bedded fully self-contained cabins each consisting of two bedrooms, a lounge/dining room, bathroom, toilet and kitchenette with a refrigerator and a stove are available.
- Visitors are required to do their own cooking and washing up.
- Electricity is available between 17:30 - 22:00 only and there are no plug points available.
- There is also one eight-bed fully self-contained cabin with a barbeque facility.
- There are also three two-bedded safari-tents.
- The accommodation is self-catering, but linen, bedding, cutlery and crockery are provided.
- There is also a communal TV room and coffee shop available.
- A camping ground with hot and cold water ablution facilities accommodates a total of 120 people 0n 20 sites.
- One 8-bed dormitory cabin is also available in the Injisuthi Camp.
High Season:
High season dates and rates are applicable from:
12 December 2018 to 8 January 2019
20 March 2019 to 8 April 2019
19 April 2019 to 22 April 2019
14 June 2019 to 15 July 2019
8 August 2019 to 11 August 2019
20 September 2019 to 6 October 2019
High season rates are also applicable over any events.
Injisuthi - Drakensberg Activities:
Visitors Activities
- Walks into the well known Cataract Valley and Mdedelo Wilderness Area, adjacent to the camp, are incredibly scenic.
- Guided walks to the Battle Cave, famous for its San Rock art, are booked in advance and is limited to a minimum of four and a maximum of 20 people.
- Overnight hiking routes extend deep into valleys and forests of the area and up onto the main escarpment, ensuring a pure wilderness experience with breathtaking views and scenery.
- Day hikes and walks consist of routes that are graded from easy to difficult.
- Some of them have gloriously refreshing rock pools that beg to be swum in, the crisp berg water will leave you feeling completely rejuvenated.
- The weather can change suddenly and become very cold so hikers are advised to be well equipped.
PLEASE NOTE:
- The Mountain Rescue Register must to be completed before you begin your hike.
- Make sure you sign out again when you return.
- Ensure that you complete the Mountain Rescue Register correctly and in detail.
- It is very often the only information the rescue team has to go on if you have an accident or get lost.
- When you leave the park, it is essential that you record your return in the Mountain Rescue Register.
- Failure to do so wastes valuable time for managers during rescue operations.
- Your life may depend on this information.
Trout Fishing
There are several kilometres of trout waters for fishing.
Trout anglers are required to pay a daily rod fee, which can be paid at the reception office.
Please note that only recognised trout fishing tackle and techniques are permitted.
Fishing is available all year round.

Click to display the map
What a beautiful setting! The cottages are pleasant and comfortable. The staff are helpful. Just the baboon was a bit annoying. I think it is a lovely spot to visit.
We thoroughly enjoyed our stay again. The camp is well run, the chalets are clean and comfortable and very good value for money. Its position in the berg is exceptional.
We had a comfortable stay at Injisuthi, it has the best access to the foothills of the Drakensberg and we had some wonderful walks. The drive is challenging once you get through the gate, I do hope you will be able to do some maintenance on the road in the future. Also, the wood sold at the little shop is always wet, it would make such a difference if there was dry wood. The staff were great and very helpful.
The chalet was clean and presentable. the grounds were in superb condition. Our interactions with all staff, obviously mainly front office, were seamless and helpful. All round, a great experience and good value for money. We will be back.