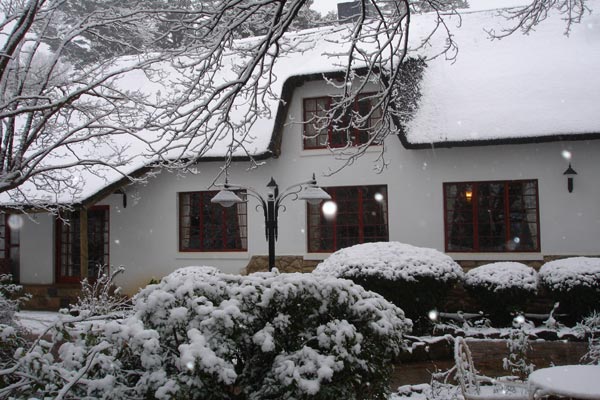 Hogsback Arminel Hotel
is an idyllic natural setting nestled in the famous Hogsback mountains.
Hogsback Arminel Hotel boasts large public areas which can cater for up to 80 conference delegates or 150 banqueting guests.
Annual Events at Hogsback Arminel Hotel
Hogsback Spring festival - takes place in September.
Christmas in July – Toward the end of July each year when Hogsback visitors and residents wait for snow and celebrate a mid-year Christmas
Accommodation at Hogsback Arminel Hotel
Double Room - one queen size bed
Twin Room - two three-quarter beds
Family Room - four three-quarter beds
Some beds can be pushed together to form a king-size bed.
Self Catering at Hogsback Arminel Hotel
The cottages are gently nestled in a picture perfect garden, surrounded by waterfalls and natural beauty.
There are 2 styles of cottages to choose from, either single or double storey, all with open-plan dining/living area leading to a large deck.
Double-Storey Thatched Cottage:
Two bedrooms and a loft
Room 1 - Two single beds
Room 2 - Two Three-Quarter beds
Loft Room - Two single beds
Single-Storey Thatched Cottage:
Two bedrooms and a bunk room
Room 1 - Queen bed
Room 2 - Two single beds
Bunk Room - One double bunk
What a beautiful, tranquil setting! The room was spacious & very comfortable, the staff so friendly & helpful. Also the food was excellent, and the portions generous. Definitely a recommendation for a relaxing holiday. Thank you Arminel, we really enjoyed our stay.
The chalets are really beautiful and very clean and presentable inside. We had a lovely stay and hopefully will be back one day!
Staff very friendly. Food excellent. Room very good and clean. Tourists need to be warned that all tourist shops and attractions are closed on Mondays, Tuesdays and Wednesdays!