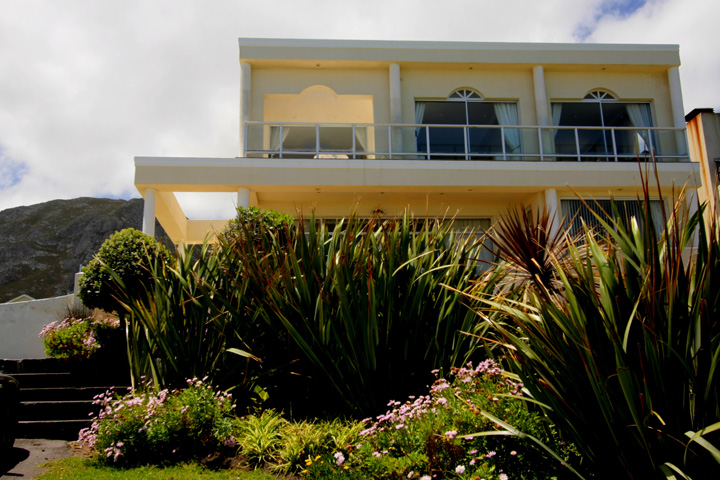 For decades, Voelklip, Hermanus, has been an exquisite destination. The Southern Right Whales have made this bay, their "choice of stay". Make it yours.
See why WALKER BAY is so loved by globe trotters. The Hermanus Beach Front Lodge puts you center stage.
They say: "a picture is worth a thousand words".
QUIET ROOMS AND LAZY DAYS:
Regrettably, children under ten years of age are not permitted. From the privacy of your suite enjoy the sound of the surf and the beautiful sunsets. Local cuisine is on offer from the 43 restaurants in the area.
Each suite comprises of the following:
- Two separate inter-leading rooms (four singles or two doubles)
- a self-catering kitchenette (small refrigerator, microwave, stove top, washbasin, crockery and cutlery)
- one bathroom (double marble basin, bath and shower and toilet)
Your suite is equipped with its own private kitchenette (allowing for self-catering), a number of our guests elect to prepare their own light breakfast (cereals and breads are available for purchase at the lodge).
Where is the lodge situated?
In the suburb of VOELKLIP – a narrow stretch of land, hemmed between MAANSKYN KOP (Moonshine Hill) and the BEACH AREA.
This small area along the beach has created its own unique exclusivity.
The area's FAUNA and FLORA ("Fynbos"), also draws many a visitor annually, from Europe and beyond. The BIODIVERSITY of this area is unmatched on the planet.
The now world famous walk along the seas edge, (THE CLIFF PATH), provides vantage points for sighting of the whales. These gentle giants visit our shores from end of July to November each year. Here they come to calf and mate, before they again return to Antarctica.
We look forward to hosting you at HERMANUS BEACH FRONT LODGE. A unique setting, limited to a privileged few.
Rooms / Suites
These lovely suites will dissolve your stress and the beauty & spaciousness inspire breathing deeper.
Nr. 1: Grotto Suite (Sleeps 2 to 4 people) - This suite comprises of the following:
two separate inter-leading rooms (four singles or two doubles)
a self-catering kitchenette (small refrigerator, microwave, stove top, washbasin, crockery and cutlery)
one bathroom (double marble basin, bath and shower and toilet)
Nr. 2: Voelklip Suite (Sleeps 2 to 4 people) - This suite comprises of the following:
two separate inter-leading rooms (four singles or two doubles)
a self-catering kitchenette (small refrigerator, microwave, stove top, washbasin, crockery and cutlery)
one bathroom (double marble basin, bath and shower and toilet)
Nr. 3: Langbaai Suite (Sleeps 2 people) - This suite comprises of the following:
a spacious room (two singles or one double)
a self-catering kitchenette (small refrigerator, microwave, stove top, washbasin, crockery and cutlery)
one bathroom (double marble basin, bath and shower and toilet)