Gomo Gomo Game Lodge
is a private and intimate camp situated in the prestigious Klaserie Private Nature Reserve, giving you best traverse viewing. The Klaserie now forms part of the Greater Kruger National Park with a common unfenced boundary.
Our traversing area is approximately 6000 hectares (14800 acres) of the reserves, offering guests varied landscapes with an excellent possibility of coming face to face with the Big 5 (lion, leopard, buffalo, elephant and rhino) and numerous other mammals and bird species in their natural habitat.
Early morning, late afternoon and evening game drives are conducted in open 4x4 Land Rovers with qualified and experienced field rangers and trackers, ensuring an exciting and informative safari.
An optional guided bush walk will open up the fascinating world of some of South Africa`s intricate ecosystems with its varied fauna and flora.
Breakfast and lunch are served in the open thatched dining room overlooking the watering hole, while dinner is served in traditional African style around a log fire in the boma.
Our friendly and efficient staff will endeavour to make your stay at Gomo Gomo the highlight of your visit to our diverse and interesting country.
During the day guests can relax on the patio in the shade of a century-old Weeping Boer Been tree or cool down in the swimming pool. At night the camp is transformed into an African wonderland with kerosene flares, creating a true safari ambience.
Children
Children all ages are welcome to join game drives, but have to be older than 12 years to join the bush walk.
Accommodation at Gomo Gomo Game Lodge:
Guests are accommodated in fully furnished, brick and thatch chalets all with en-suite facilities and power points.
Accommodation options vary: there are 4 x 2 bed chalets (1 room, double or single beds and luxurious bathroom) or 4 x 4 bed family chalets (2 rooms, 1 double bed and 2 single beds and shared luxurious bathroom).
Game Viewing at Gomo Gomo Game Lodge:
Your private safari at Gomo Gomo Game Lodge allows access to over 6000 hectares of the reserves, offering guests varied landscapes with an excellent possibility of coming face to face with the Big 5 and numerous other mammals and bird species in their natural habitat - hectares of the finest big game country, with lion, leopard, elephant, rhino and buffalo thriving alongside giraffe, zebra and a variety of antelope.
Bird watching is wonderful, with various eagles, owls, francolins, kingfishers, rollers and weavers among the over 300 recorded species. Game drives are conducted by experienced rangers and Shangaan trackers in open 4X4 vehicles, with excellent photographic opportunities.
Guided bush walks provide an insight into nature`s finer details and the chance to track game on-foot.
Come and enjoy the peace and tranquility of Gomo Gomo unspoiled, untouched and unforgettable Africa.
Gomo Gomo Game Lodge Map:
Health & Climate:
Precaution against malaria is necessary.
Winter: May to September are mild to pleasant during daytime. However, nights can be cold, warm clothing is recommended.
Summer: October to April - is hot to very hot with occasional rainfall. Protection from the sun is necessary.
I couldn't think of a better game lodge experience. Excellent staff. Great food, service, game drives. And the watering hole right in front of the lodge has to be a huge advantage over other sites, with animals coming by constantly. Highly recommend!
Very enjoyable stay with very helpful and friendly management and staff. accomodation was very nice and facilities very clean and tidy. Food could have been a bit more for the hungry and variety a bit limited. Met a lot of international tourists which was very interesting. Roof on game viewing vehicles could have saved us and tourists a lot of sun burn.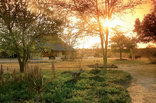 Kambaku Game Lodge is a place of exquisite beauty and peace set amidst several thousand ha of pristine Timbavati wilderness, which forms part of the greater Kruger National Park ecosystem.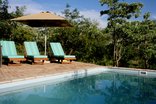 Baobab Ridge is a self catering and self drive Big 5 game lodge in Klaserie Private Nature Reserve - open to Kruger and Timbavati. Offering 6 air conditioned double Chalets with en suite bathrooms, lounge, kettle, fridge and terrace.
From:
R4542.50
per person sharing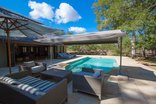 Xanatseni Private Camp is located within the Klaserie Private Nature Reserve which is one of the largest privately owned nature reserves in South Africa, and part of the greater Kruger National Park.
From:
R3200.00
per person sharing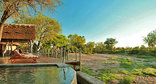 Kambaku River Sands unfenced camp is perfectly situated on the banks of a dry river bed allowing animals to roam freely around and through the camp. The suites are set spaciously apart, allowing for secluded views of the unspoiled bush.
From:
R4500.00
per person sharing
See the real Africa at Umlani Bushcamp, enjoy the ultimate experience of true wilderness and seclusion in a camp that accommodates just 16 guests, in traditional African reed and thatch huts.