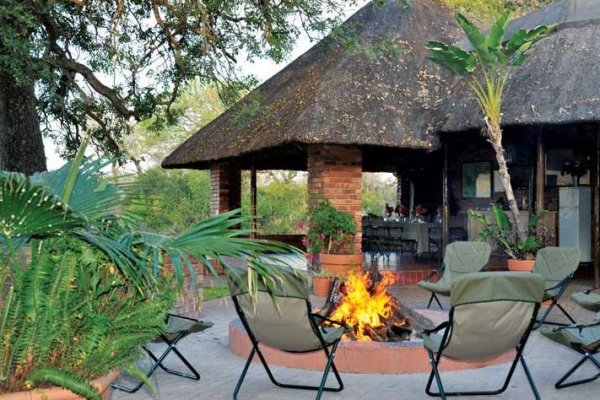 Galago Camp
, named for the "lesser bush baby" in Latin, is a self catering safari camp in
Djuma Game Reserve
offering families or small groups the use of the entire camp with total exclusivity.
Galago Camp offers expansive views including waterholes. Guests can relax on the large viewing deck or around the swimming pool which has a view of the water-hole and nothing beats wallowing in the cool pool whilst watching elephants do the same.
A personal guide, tracker and Land Rover vehicle are on hand for your exclusive private safari. The animals that can be seen include the 'Big Five'. Guests bring all their own drinks (soft and alcoholic) and food and prepare their meals themselves. Children are welcome.
What to take:
Comfortable walking shoes, sun hat, sunglasses, sun block, cameras and binoculars, anti-malaria precautions (please consult your doctor/
pharmacist) light, neutral coloured clothing, swimming costume, warm jackets are essential in winter (May - October).
Galago Camp Accommodation:
Galago Camp offers a personal safari experience for family or friends. This self-catering lodge has five en-suite bedrooms, suitable for groups of up to 10 guests. Have the freedom to tailor-make your own African bush experience, without compromising on comfort, luxury and bush expertise.
Galago Camp Facilities:
The new Galago is located next to Vuyatela and has three luxury chalets, two of which are family units that can sleep 4 each and the third can sleep 2. The main building is a converted bush house with lovely pool and garden. There is further accommodation in the main building (it can sleep 4 in two rooms as a family unit) and then there is a garden chalet that can sleep 2. Thus there is a choice of the type of accommodation guest would like to use, the more private chalets and / or the accommodation at the main building. All rooms are air-conditioned and en-suite. It includes both indoor and outdoor cooking facilities. Guests bring their own drinks and cooking supplies for this self-catering lodge, although a chef can be arranged prior to arrival.
The Galago experience includes a guide and tracker and a private game viewing vehicle, with additional quarters for guests' own staff such as pilots, guides or chefs. The exclusivity of Galago camp allows guests to relax and unwind to a flexible schedule.
Galago Camp - Djuma Game Reserve Activities:
Djuma's biggest draw-card is essentially the wild and untamed surrounds into which its guests can explore. This part of Africa has seen such a slight human imprint that the land is still governed by legendary animals like the Big-5: lion, leopard, rhino, buffalo and elephant. Activities are endless in the divine South African climate with 7000 hectares of wilderness on your doorstep. The flexibility of Galago's schedule allows guests to make up their own activities schedule.
Morning and Evening Game Drives:
A tracker and qualified ranger will take you through the reserve in specially designed game-drive vehicles, and do their utmost to deliver the finest game viewing opportunities.
Bush Walks:
After a hearty breakfast, a bushwalk with one of our experienced rangers offers the opportunity to take a closer look at your wild surrounds. Discover unexpected surprises like a chameleon perched on a tree branch, or view the thousands of birds that roam Djuma's skies.

Click to display the map
We were fortunate to be a party of just 6 so we all could enjoy the luxury of the three chalets. For groups bigger than six some will have to sleep in the lodge, not bad but not to the same standard of the chalets. Game drives were great and we saw it all, including lions feeding on a kill, plenty leopards and even the rare wild dog showed up. Compliments to the tracking skills of Aubrey and William, not only from us but from fellow rangers of other lodges too. One of the sightings found by Aubrey and William was rated 10 out of 10 by them as well. In fact at least one other vehicle was unable to reach it. We felt like royalty with all the little touches like early morning coffee, fire burning after the evening game drive, beds turned down and everything spic and span and in good working order. Djuma was not our forts experience with a self catering lodge but its among the best. Thanks to the Djuma team.