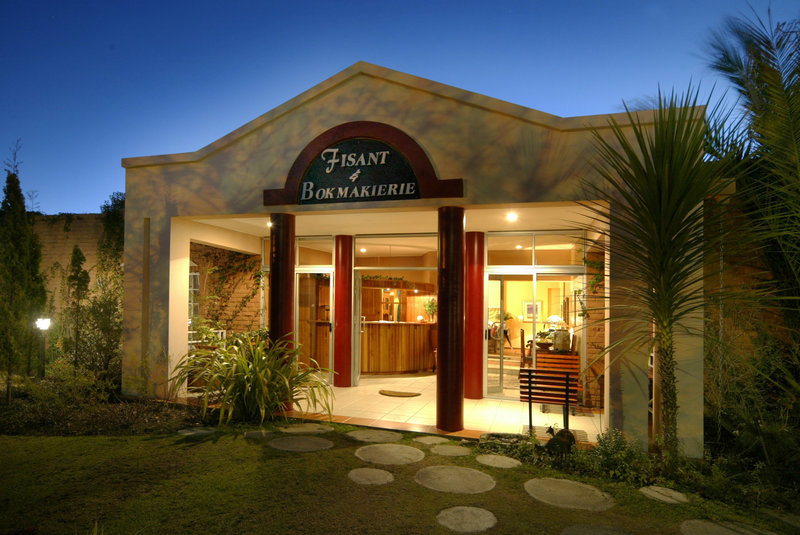 Bethlehem is situated in the beautiful Eastern Free State with easy access to places like Golden Gate National Park. Drakensburg World Heritage Site and Lesotho.
Listen to the distinctive call of the Bokmakierie as it echoes through the crisp, clean air. Atmospere, attention to detail and personal service make Fisant Guest House very special.
Charming en-suite bedrooms with separate entrances are decorated with an artistic flair and include all comforts.
Relax in style and comfort in this tranquil setting with beautiful gardens.
Bethlehem serves as a convenient country stop-over from anywhere to everywhere! A champagne summer climate makes way for cold conditions, sometimes snow, in the winter months.
Caring hosts, Du Toit and Sonia Human have created an elegant and cheerful ambiance, perfect for the business executive or leisure traveller.
Enjoy excellent buffet breakfasts Gourmet dinners on request. Cosy log fires, music and candle-light in the lounges provide the perfect compliment to winter evenings.
Safe undercover parking and electrical security gates are available to all guests.
Enjoy excellent accommodation at Fisant Guest house in the lovely town of Bethlehem, Free State. Relax in the heart of the magnificent sandstone country, surrounded by golden maize and wheat fields.
Lovely premises, friendly and helpful staff, tastfully decorated and spotlessly clean rooms. We really enjoyed our stay and will definitely recommend to friends and family.
Our stay were lovely. I go back anytime. The Guesthouse are located in a very still area and that made us at peace.
Very friendly and homely atmosphere.
Friendly, easy to find (apart from the roadworks!), comfortable accommodation (despite the rain!), excellent dinner and breakfast. Our hosts were very friendly and helpful an our last day in South Africa after 2 months in your country. We will return!