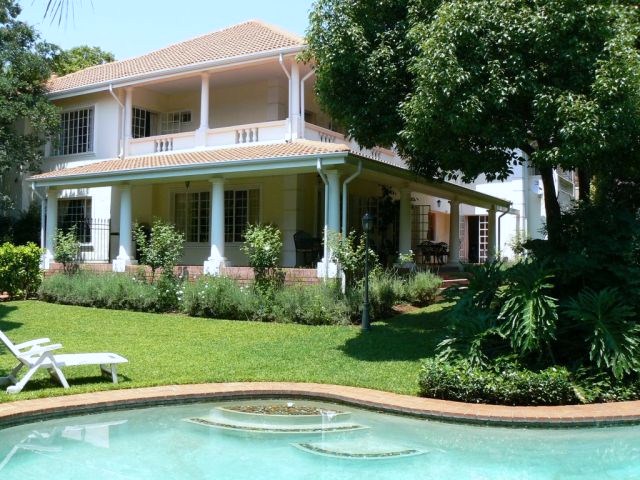 Welcome to
Edward House
- to a peaceful world dedicated to your comfort and privacy. Here we adhere to Edwardian standards of hospitality while providing all modern comforts.
This Guest House – a fine example of the Edwardian style of domestic architecture in South Africa - stands in the leafy streets of Waterkloof, overlooking the fairways of the Pretoria Country Club golf course. With rooms in the Guest House dedicated to famous South African Edwardians, we offer you a unique bed and breakfast experience.
We are surrounded by most major embassy residences. The British, English, French, American, German, Spanish, Italian, Dutch and Danish residences – to name but a few – are either in the same street or not more than a few blocks away.
Edward House is a favourite destination for travellers on the world famous Blue Train as well as the romantic steam train, Rovos Rail. Whether you are a discerning tourist, diplomat, golfer or businessman, Edward House is ideal accommodation.
Keen golfers or tourists on the way to the Kruger Park Game Reserve find the guest house ideally situated. The golf course couldn't be closer and it is easy to access most major tourist attractions. For the more academically minded, we are also close to both Pretoria and Unisa Universities.
Services at Edward House include:
- Wake up calls (on request)
- Morning newspaper
- Guests can choose from three breakfast menus
- Health Breakfast
- Hearty English Breakfast
- Continental Breakfast
- Menus for other meals (light lunches, teas or dinners) are available on request
- Laundry and dry cleaning services are provided if required
- Local tours with a personal guide, transport to and from the airport and other transfers within Pretoria can be arranged.
Accommodation at Edward House:
Cecil John Rhodes Room
A spacious, imposing double room with queen size bed, Edwardian bathroom, direct access to the wrap-around veranda and beautiful views across golf course and gardens.
Jan Smuts Room
Simple cotton prints and a quiet colour scheme characterise this double room with a queen size bed opening on to a balcony with a view over the garden.
Mahatma Ghandi Room
Furnished in the spicy colours of the east, this double room features a queen size bed, a separate work area and direct access to the wrap-around veranda.
Olive Schreiner Room
A single / double room dressed in cottons and silks in the soft faded colours of yesteryear, the Schriener Suite features a full period bathroom and double four poster bed.
Facilities in each room:
- Airconditioning
- Desk
- Free internet access
- Built-in safe (large enough to contain a laptop)
- Television
- Mini-bar
- Hairdryer
- Choice of down or Comforelle pillows and extra bedding
- Quality mattresses, linen, towels and bathrobes
- Tea and coffee making facilities