Storms River is a small tourist village in the Eastern Cape adjacent to the Tsitsikamma National Park. En route to and from Cape Town, comfortable accommodation on offer in the Garden Route will have you wanting to stay even longer. With Storms River Village in the heart of the Tsitsikamma forest, offering activities for all age groups not to be missed.

The Storms River Mouth section of the Tsitsikamma National Park is a must visit and hosts the well known suspension bridge.

Storms River Accommodation listings with guest ratings, grading and rates - request a quote and book online. Whether on holiday or for business travels, browse Storms River Accommodation listings to find your ideal accommodation.

Filter the results for accommodation in Storms River by type:
Accommodation in Storms River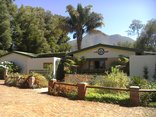 In the heart of the Tsitsikamma Forest and at the foot of Storms River Peak, Andelomi Forest Lodge offers high-quality and affordable 3-star bed & breakfast accommodation.