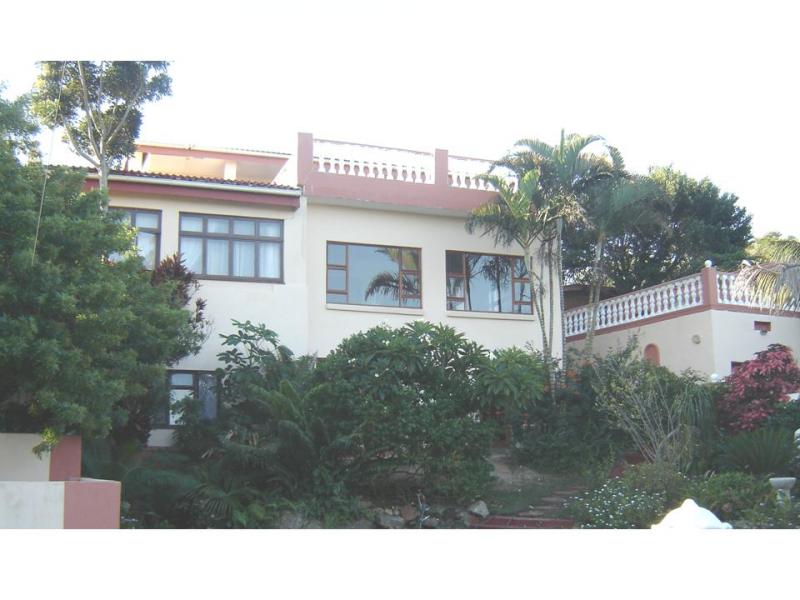 Situated on a hill only 900 m away from Margate main beach, guests can enjoy stunning sea view from the high balcony. Alternatively, the many local attractions within close proximity can be explored in pleasant weather.
Dieu Del-Amore B&B and Self Catering
offers various `Bed and Breakfast` units as well as a `Self Catering` unit in a quiet setting with ample secure parking. Breakfast is not including in the price.
Margate airport is only a couple of minutes away. Ramsgate, Uvongo, Shelly Beach and Margate offer safe beaches as well as many restaurants, art galleries, shopping malls, cinemas, bars, clubs and boat cruise operators.
Nature lovers will enjoy the abunce of nature- and game reserves in the area. We would like to think of ourselves as your home from home, we do our best to make your business- or pleasure stay enjoyable.
Accommodation at Dieu Del-Amor B&B and Self Catering:
Breakfast is included in rate for all guests in B&B units and is available by prior arrangement for self catering guests. Dinner is available by prior arrangement (all guests).
All units has en-suite facilities, big comfy beds, tea/coffee, television and private sundeck:
- 2 double bedrooms plus 2 single beds with en-suite bathrooms (B&B)
- 2 double bedrooms with en-suite bathrooms (B&B)
- 1 twin bedroom with en-suite bathroom (B&B)
- self catering unit, full kitchen, living area and 2 bedrooms with en-suite bathrooms
On Site Facilities at Dieu Del-Amor B&B and Self Catering:
Our crystal clear pool is especially refreshing during the warmer summer months. Outdoor braai (barbeque) is available for your enjoyment.
Meals are served in the spacious dining room. We prepare a full English Breakfast daily for all B&B guests as well as dinner on request.
Dieu Del-Amor B&B and Self Catering Activities:
We are situated centrally on the KZN South Coast which makes it ideal to use Dieu Del-Amour as your home base from where you an easily explore south to Port Edward, north to Hibberdene and inland to the Oribi area.
Golfers will be pleased to know that the south coast has quite a few golf courses of very high standard, all well known for their fine hospitality.
A wide variety of shops will cater for all your holiday needs. Should you want to tempt lady luck the Wild Coast Sun Casino is only a 30km drive.
Boat and fishing trips are available daily.
Riverbend Crocodile Farm, Lake Eland Game Reserve and Oribi Gorge Nature Reserve, to mention a few, caters for nature lovers.
Wonderful restaurants can only make your holiday experience more memorable.
Other attractions include swimming at Margate main beach, which is only 900 m away. Lots of smaller beaches are in close vicinity.

Click to display the map
Accommodation was great; very friendly and cooperative; recommended.
it was relaxing and peaceful, and the people were very warm, friendly and helpful.