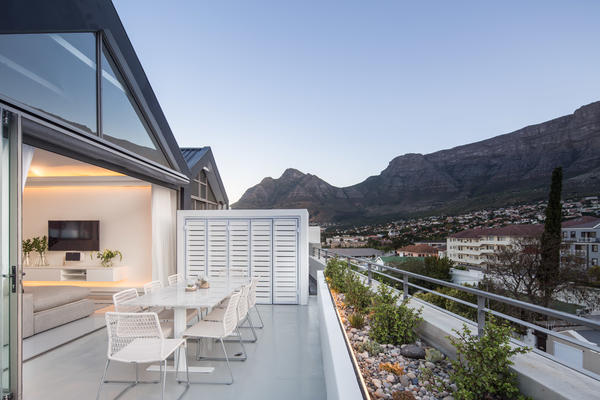 City Wanderland
- This contemporary penthouse apartment is a perfect place to savor the very best of what Cape Town has to offer.
Situated above the City Bowl,with breathtaking views of Table Mountain,World's 7th Wonder. Wander around and soak in the culture and enjoy the food and wine that Cape Town is renowned for.
Accommodation at City Wanderland:
This penthouse apartment is situated on the second floor of a four apartment complex. The first floor has an open plan kitchen dining/living area which is perfect for entertaining. There are two en-suite bedrooms with un-interrupted views of the city bowl. Upstairs is a wonderful bright and airy second living area with bi-fold glass doors on two sides that allow you to create a large outdoor/indoor area for soaking up the sun and taking a welcome soak in the plunge pool.
This exclusive deck are is the perfect place to enjoy breathtaking 360º views of Table Mountain, Lions Head and Signal Hill whilst you enjoy a glass of South African chilled white and watch the sun set. Integrated speakers throughout allow you to play your favourite playlists. All bedrooms and living areas have individual air conditioning units, and there is wifi throughout the apartment and satellite television in both living areas.
Facilities:
- En-suite bathrooms
- Air conditioner in each room
- a safe and ample storage space
- Free Wi-Fi
- Satellite television
- Pool
- Parking