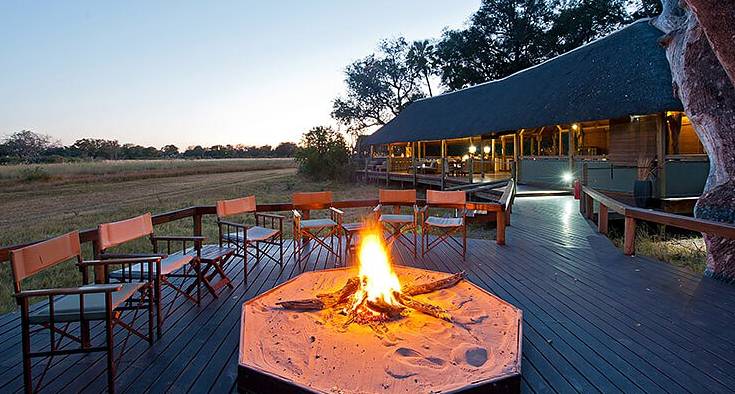 Chitabe Lediba Camp in the Chitabe Concession neighbours the Moremi Game Reserve in the south-east of the Okavango Delta. Its wide range of habitats makes for amazing wildlife sightings.
Highlights of Chitabe Lediba Camp:
- Diverse and abundant plains game followed by their fierce predators is a classic scene at Chitabe Lediba
- An intimate camp that is ideal for small groups or families
- Wild dogs are often the stars of the show at Chitabe Lediba
Accommodation at Chitabe Lediba Camp - Classic Camp:
These camps are designed in traditional safari style and are mostly stylish canvas constructions, often raised off the ground on wooden decks. Located in exceptional wildlife and wilderness areas, all offer superb facilities and accommodation. The camps range in size from 3 to 12 tents.
Chitabe Lediba Camp is smaller than its sister, Chitabe, and is ideal for small groups or families. Its two family units have adjoining bedrooms and en-suite bathrooms. All five spacious Meru-style tents are built on raised decks. En-suite bathrooms have outdoor showers with panoramic views of the Delta. The dining area, lounge and pool have a glorious vantage over the small lediba (remnant lagoon that has become a waterhole) after which the camp is named and where multitudes of wildlife come to drink.
Wildlife at Chitabe Lediba Camp:
Chitabe Lediba is located in the Chitabe Concession, which covers 22 000 hectares of pristine Okavango Delta wilderness. This unique area harbours a massive variety of habitats within close proximity giving rise to a surprising diversity of species. The mix of Okavango and Kalahari makes for an excellent home to an abundant array of herbivores: giraffe, buffalo, red lechwe, tsessebe, impala and elephant, which in turn support the larger predators: lion, leopard, spotted hyaena, cheetah and wild dog.
Things to do at Chitabe Lediba:
Activities at Chitabe revolve around day and night game drives and nature walks.
- Game Drives
- Sunset/Night Drives
- Walking Safaris
- Birding
Please find herewith some
information
that is provided as a guideline to visitors when on safari in Botswana.