Cape Town Ritz Hotel "The ultimate in hospitality with a view to match"
Just off the bustling main street of Sea Point, the Cape Town Ritz is within a short walk of fabulous beaches and the popular Sea Point Promenade, with its cosmopolitan collection of walkers and joggers.
The Cape Town Ritz also enjoys close proximity to the spectacular V&A Waterfront, today one of South Africa's main tourist attractions, which is within a 20 minute walking distance. Great accommodation overlooking the best views in the Cape Peninsula.
Although convenient to a vast selection of restaurants, the Top of the Ritz is still one of the most popular attractions. The restaurant, situated on the 21st floor, revolves one full circle every 90 minutes, revealing unsurpassed views of the twinkling lights, illuminated Table Mountain, world famous V&A Waterfront, historic Robben Island and the moonlight on the bay.
With an excellent menu selection, superb wine list and inexpensive prices, the Top of the Ritz is a special occasion restaurant to be enjoyed often. The tranquil Pool Deck provides a spacious relaxation area adjoining the sun-filled terrace and Cafe Biar Ritz.
Businessmen favour the Cape Town Ritz Hotel as a refreshing location, central to the CBD, yet away from the frantic pace of business pressures. With our very large, modern, fully equipped Banqueting and Conference facilities, the Cape Town Ritz Hotel can cater up to about 700 people.
Facilities:
- Swimming Pool and Jacuzzi
- Room Service from 11h00 to 23h00
- Laundry and Dry Cleaning Service
- Non-smoking rooms
- Inter-connecting rooms
- Safety Deposit boxes
- Luggage Storeroom
- Fax, Mail and Photostat facilities
- Cell phone friendly
- Car rental facility
- Internet Cafe (at walking distance)
- Baby cots and babysitter services (O/R)
- Doctor & Dentist Services on call
- Parking (at extra cost)
- Curiosity shop
Conferencing & Banqueting Facilities:
Businessmen favour this Sea Point landmark hotel as a refreshing location, close to the CBD yet far enough from the pressures of the city to make business a pleasure. Our spacious, fully equipped and thoroughly modern Banqueting and Conference facilities cater for up to 500 people.
We offer all the necessary hardware and technological support you need in order to make of your meeting, event or special occasion a complete success. We don`t just provide you with a room, a few plugs and a couple of screens and projectors; we first provide the platform and environment where these tools can be used to greatest effect and then our team will make sure to accomplish your customized needs as tea and coffee breaks, lunches, dinners, receptions and recreational activities.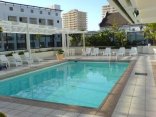 Guest Rating:

(2 reviews)
The extremely popular The Centurion All-Suite Hotel Holiday Apartment Resort in buzzing cosmopolitan central Sea Point is next to shops and restaurants and one block (3-minute walk) from the beach/promenade.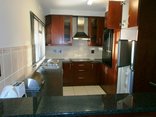 The central Vicmor Court Apartment in vibrant central Three Anchor Bay with magnificent panoramic sea and mountain views, next to shops, restaurants and Woolworths Food, and one block from the beach/ promenade/playpark/jogging track.
We offer spacious 6 luxury apartments. A perfect self-catering accommodation base for the business or holiday traveller. The ultra-modern apartments, are centrally located in Sea Point, close to all amenities,and also a street away from the beac
From:
R2915.00
per unit, Max: 4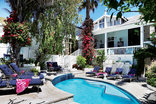 Blackheath Lodge is an upmarket boutique Guesthouse in a stylishly decorated 1880's Victorian house, located in Sea Point, Cape Town. Decorated in African eclectic style, 10 elegant, spacious, en-suite rooms with private bathrooms and extra-length beds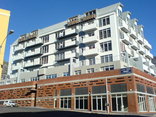 Alpha Corporation companies, Alpha Apartment Bookings & Centurion Hotel are located in Cape Town, South Africa. We are your "1-Stop Shop" offering you a stunning variety of modern upmarket, yet affordable Accommodation in 9 different buildings.