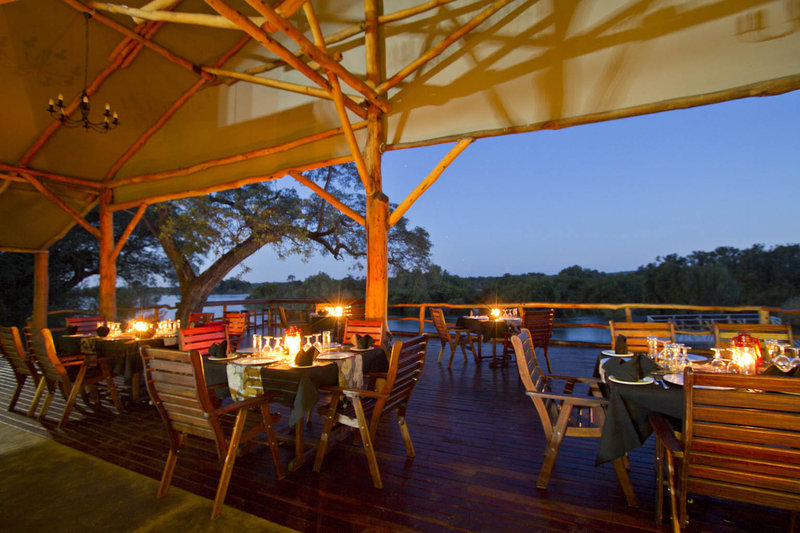 Camp Nkwazi
is nestled on the banks of the mighty Zambezi river, +- 20 minutes drive from Livingstone and +- 25 minutes from one of the natural wonders of the world, the Victoria Falls. The river extends the length of the property and there are breathtaking views over the water with the sightings of a variety of game, rich and rare bird life with the likes of Fish Eagle, African Fin Foot, Pel`s Fishing Owl, African Paradise Flycatcher, Horn-Bill, King Fishers, Bee-eaters etc.
Camp Nkwazi is located close to the Mosi-Oa Tunya, Chobe and Kafue national parks and right opposite the Zambezi National Park.
Ensure enough time at Camp Nkwazi, not only for relaxing in the African bush with indescribable bird life, but also to participate in the nearby activities with the likes of helicopter or microlight flights, fishing, game viewing, canoe, makoro or boat trips on the Zambezi, elephant rides, lion encounters, Vic Falls day trip and swimming in the spectacular devil`s pool etc.etc.
Camp Nkwazi is not a stopover. It`s a destination.
Camp Nkwazi accommodation:
Experience all the comfort you are entitled to without sacrificing the experience of being close to nature in either, 10 Luxury Self-Catering Chalets or 13 Luxury Camp Sites. Each of the 10 luxury self-catering "tented" chalets are tastefully furnished and equipped with all the necessary utensils to ensure that you totally sink into comfort and relaxation at Camp Nkwazi. Thoughtful - 2 chalets are converted to wheelchair accessible.
The 13 unique, "Best in Africa", lawn covered camp sites, cleared in the forest with luxury ablution and scullery facilities, will ensure all campers to return. For your convenience, Camp Nkwazi offers you a restaurant, bar and swimming pool.
Tented Chalets:
Camp Nkwazi comprises of 10 luxury self-catering "tented" chalets, all with en-suite facilities. The luxury tents are a great source of relaxation with only the best mattresses available.
Comfortable hidden in your private hideaway, you will be pampered by crisp linen on 2x 1070 x 2000mm based sets, en-suite bathroom, wooden deck, with a fully equipped kitchen and offering an open view 2 Chalets are "wheelchair accessible".
Each unit has power points for hairdryers and shavers (220v) in the room as well as an external power point Each luxury tent sleeps 2 adults. By prior arrangement, 2 children under the age of 12 years. may be accommodated Chalet guests are welcome to use the restaurant, bar, bakery, convenient store and swimming pool at Camp Nkwazi.
Take in consideration the plenty of surrounding activities, bird life, sun downer/game viewing boat trips etc. etc. not to be disappointed with a too short a stay.
Campsites:
Previous campers classify Camp Nkwazi's camp sites as "the best in Africa."
A camping safari gives you an added value in bringing you closer to the splendour nature offers and exploring the remote areas of Zambia. It also creates a more relaxed atmosphere and bring some flexibility not normally found on organized tours and accommodation.
Be assure to meet plenty of nature loving brothers and sisters on your camping safari at Camp Nkwazi.
Camp Nkwazi has 13 separate lawn covered camp sites. Each site was well planned and cut in the forest. Some sites can accommodate from 2, up to 8 vehicles.
The bigger sites have exclusive ablution blocks and an exclusive under roof scullery. All camp sites have a huge braai (barbeque) with light, 220V power point, running water and hot water is supplied by a "donky" (wood burning boiler)
All campers are welcome to Camp Nkwazi`s restaurant and bar.
Activites at Camp Nkwazi
- Nkwazi Sunset River Cruise(Drinks and Snacks)
- Nkwazi Transfers Livingstone Returning
- Nkwazi Transfers Kazungula Returning
- Nkwazi Trail Walk
- Nkwazi Guided Tour Vic Falls (Transfers and Poncho included)
- Chobe Day Trip
Near Camp Nkwazi:
- Scenic flights
- Tiger fishing
- Bungi and Gorge swing
- White Water Rafting
- Zambezi Elephant Trail
- Rhino Walk
- Jet extreme
- Canoe Safaris
- Zambezi Horse Trails
- Absail Zambia