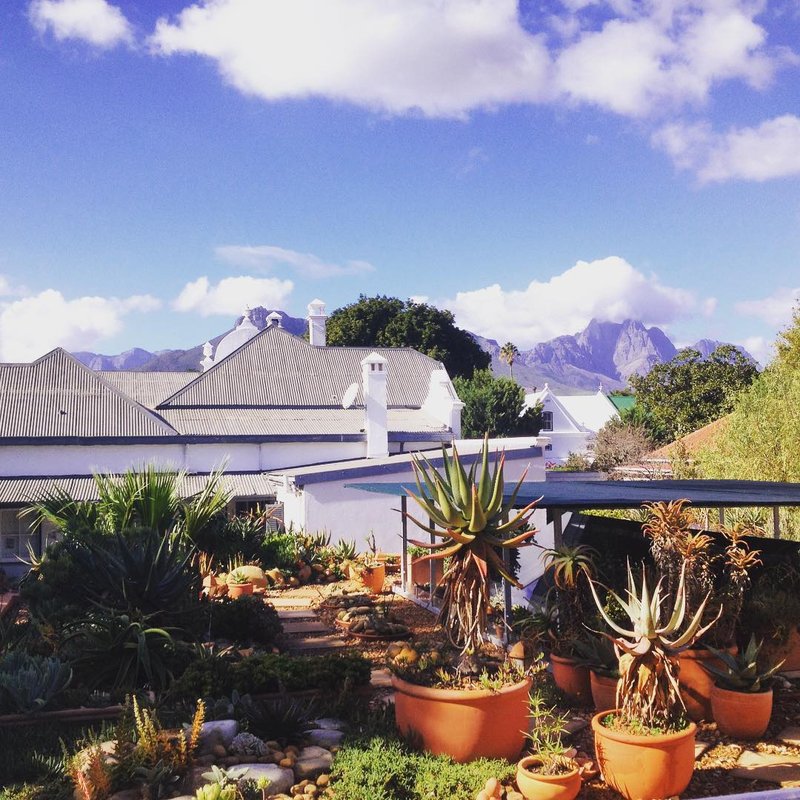 Here you can share our passion for art, culture and history - to be enjoyed with the subtle conveniences of modern day living!
From our location in the heart of Stellenbosch Accommodation you can discover today`s local talents and experience a bygone era.
Whether you are exploring the Cape, doing business, visiting the University or enjoying a honeymoon, Caledon Villa will cater for your individual needs.
With its 15 stylish rooms guests can choose between a bed and breakfast or self-catering stay. Our well-established Edwardian guest house is decorated with antique furniture and heirlooms from the Krige family, who were the original owners of the house and who have spread their roots in Stellenbosch for 9 generations.
We will endeavour to make you feel at home immediately and enjoy assisting you in your planning so that you get the very best out of your journey.
General facilities :
- Secure off-street parking, mostly under cover.
- Visa and MasterCard credit cards are accepted.
- Afrikaans, English and German spoken.
Services
Refreshments are served, informative maps and notes are prepared and reservations are made for guests who are new to Stellenbosch, those who return to explore more extensively, and also for those who have become friends.
On your pre-arrival request, we will arrange for you to be collected at the airport and brought right to our doorstep. On the day when you need it, a rented car will be delivered to the guesthouse.
It will be a pleasure for us to assist you in your planning so that you will get the very best out of your holiday:
- visits to Stellenbosch and the vicinity
- walks into town with necessary maps
- regional tours with road maps and notes
- visits to specific wine estates and cellars
- bookings at restaurants or music concerts
Or simply enjoy our garden, relax at the swimming pool or hide away in the gazebo.
Rooms:
Caledon Villa offers 15 individually decorated en suite rooms with a variety of styles and comforts. These range from a standard room to a family room or luxury suite.
Guests can choose to stay on a bed and breakfast basis, or select from Stellenbosch's finest self catering accommodation units with all amenities.
Our approach is flexible and where possible, we will try to meet any special accommodation requirements.
All rooms are equipped with the following :
- complimentary bottle of wine upon arrival
- TV with 10 selected national and international channels
- tea/coffee tray with freshly baked rusks
- extensive information file
- kit box with self-help accessories
- fridge with honesty bar
- hairdryer
- electronic safe
- wireless system
All rooms are en suite and fall into six different categories ( suite, luxury, honeymoon, family, standard and self-catering apartment ), each with it's own facilities.

Click to display the map