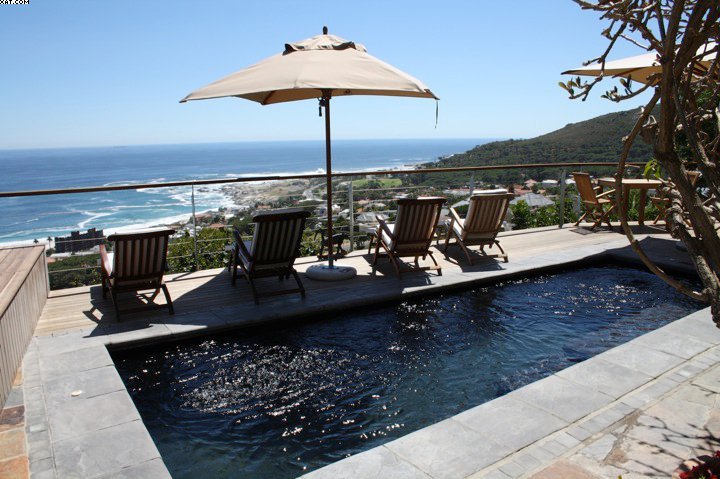 Boutique at 10 is located in the heart of Camps Bay on the Atlantic Seaboard and is just a 5 minute drive to the Table Mountain Cable Car Station, 10 minute drive to Cape Town CBD, V & A Waterfront and 20 minutes from Cape Town International Airport.
Located on the edge of Camps Bay`s central ravine, with full view of the the white beach sands being swept clean by the blue Atlantic ocean, coupled with uninterrupted panoramic views of the coastal landscape and ocean, from north to south as far as the eye can see, yet only a 15 minute walk down to Camps Bay Beach and its famous restaurant strip.
The house, with its 4 guest en suites, is spacious and leans towards old school with a variety of wood, large windows and doors leading to an outside deck on the upper level and a large wooden deck with plunge pool on the main level.
Accommodation:
Beach Suite
The Beach Suite is separate but equal and connected to the main house through a Tuscany like passage way leading into the main house open plan kitchen area.
It features twins or a king size bed, en suite with shower, small kitchenette, a 37 cm LCD TV, safe, a standing floor fan and hair dryer, tea and coffee area and has a Mediterranean feel to it with ambient lighting to enhance it`s calming aura.
Lion`s Head Suite
The Lion`s Head Suite has amazing views of Lion`s Head framed through arched windows on the North side of the suite and the Atlantic Ocean, due west and southwest, through large sliding doors that open on to the vast upper deck area.
Through the high narrow window behind the bed, which can be made up as twins or a king size, guests can view Table Mountain and the upper Cable Station and Cable Car as it moves inside to unload and pick up passengers.
Ocean Suite
A king size Oregon pine sleigh bed, crafted by a good friend, faces north west, to views of the slopes of Lion`s Head and the rocky shoreline of Maidens Cove.
Large sliding glass doors open onto the upper deck. The west facing sliding glass door opens up to uninterrupted views of the green belt ravine that winds down the slopes onto Camps Bay beach and the rolling Atlantic Ocean.
The large en suite features a Jacuzzi bath, separate walk in shower and bidet. The room has a 37 cm flat screen TV, safe,hair dryer, tea and coffee tray and air conditioning, for room climate control.
Deck Suite
The Deck Suite has double french doors which open up onto the north end of the main pool deck with delightful views of the Atlantic Ocean and landscape to the south.
The suite features a king size bed which can also be made into 2 single beds, a 32 inch LCD flat screen TV, tea an coffee tray, wall safe, en suite with separate bath and shower, hair dryer, and air conditioning for room climate control.