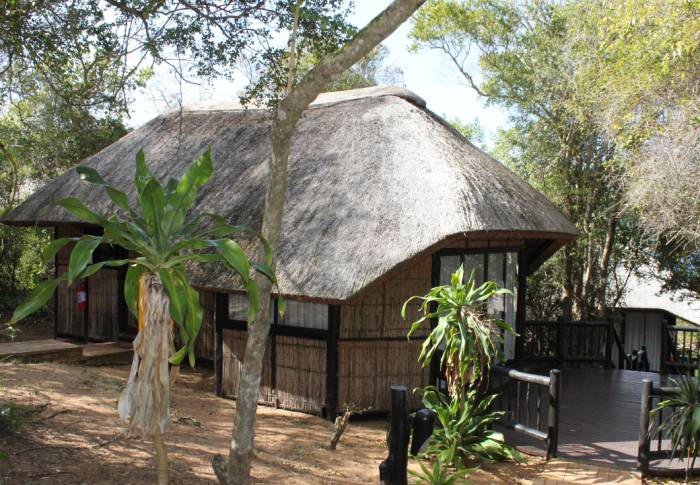 Set in lush coastal dune forest overlooking Lake Bhangazi, this luxurious
Bhangazi Bush Lodge
echos to the territorial grunts of the resident hippo pods and the shrill cry of fish eagles as they scan the tranquil lake surface for the telltale ripples of a broaching fish.
The eastern shores of the Greater St Lucia Wetland Park, a World Heritage Site, is a birders paradise with access to lake species, bushland species and coastal species as well as to a great diversity of animals.
Four thatched two bed sleeper units have en-suite bathrooms and are connected to the main lounge and viewing deck by wooden walkways.
There is a dining area and fully equiped kitchen in which a cook will prepare tasty meals for guests enjoyment.
The camp is serviced on a daily basis.
Visitors may walk in the vicinity of the lodge or do the Mziki and Emoyeni trails at Mission Rocks. Cape Vidal and the beach are ten minutes away.
Visitors must bring food for the meals they want and the drinks of their choice. Limited supplies of food and drink can be purchased at the shop at Cape Vidal which is a ten minute drive away.
Bush camps and lodges only cater for one party at a time so for the period of your stay at Bhangazi Bush Lodge - Cape Vidal, it becomes your exclusive home in a bush and water world with international wetland and heritage status.
St Lucia is a malaria area so suitable precautions must be taken.
Please be aware that all bush camps can only be accessed by 4 x 4, 4 x 2 or SUV with high clearance due to the rugged terrain in which these bush lodges are located.