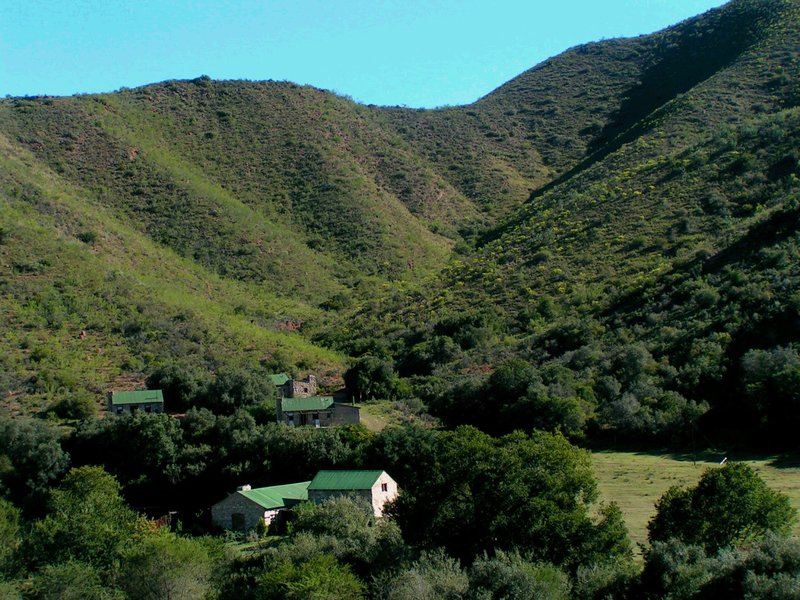 Baviaans Lodge
is a stunning wilderness retreat, bordering the remarkable Baviaanskloof World Heritage site, a 200 000 hectare mountain conservation area, world renowned for its diversity of flora and rugged, spectacular scenery.
With our own mountain 4x4 trail into the heart of the Baviaanskloof, Baviaans Lodge offers a unique experience and perspective of this diverse natural wonderland.
Experience our warm hearted, country hospitality that is legendary and enjoy our delicious country style cuisine that is freshly prepared and served by your host, Rob and his family in our cosy Lodge dining room.
Solitude and relaxation are the order of the day, yet we can accommodate the adventurous outdoor enthusiast with Kloofing, hikes, river rafting and mountain bike trails. For more leisurely pursuits we have birding, nature walks, astronomy, photography, scenic drives and san art viewing.Botanical and geological outings are on offer.
Only 180 km`s from Port Elizabeth, and 160 km`s from Plettenberg bay and 32 km`s from the heart of the Baviaankloof, its a wilderness retreat waiting to be discovered and experienced on your doorstep.
Accommodation:
The Lodge offers superb accommodation in delightful cottages, built from natural stone. Romantic fireplaces,tastefully decorated bedrooms, seating areas with lovely views make each cottage unique and special.
The Bush and The Eagles Nest cottages:
private and romantic secluded Baviaanskloof Getaway Retreat Cottages.
The Peoples and The Animals of Africa:
2 bedroom cottages: offering private family or group couples accommodation, ideal Baviaanskloof accommodation for groups.
The Olive Tree cottage:
a romantic single bedroom unit with that little bit extra for the romantic couple!
Dinners are served in the main Lodge complex, with its dining room, lounge and pub as well as managerial accommodation, close at hand to the heart of Baviaans Lodge, to ensure you are pampered with hospitality! We have a traditional outdoor African boma, braai area and "kuier vuur plek " as well as breakfast and afternoon tea verandah, overlooking our fruit orchard, which provides "fresh fruit from the tree" for meals!
Activities at Baviaans Lodge:
Adventure river rafting treks on Kouga River, Fishing and swimming, Kloofing outings, Mountain biking activity, Trail runs, Birding activity, Dendrological activity, Botany activity, Game tracking activity, Geological feature activity, Photography, San Art, Star Gazing, Baviaans-Kouga4x4 Trail, Tourism info, Wilderness hikes, Walks and Downhill extreme mountain biking.
Baviaans Lodge Activities:
4X4 TRAILS - from 6 to 46 km, grade 2 - 3, guided as well as self drive, HIKING TRAILS - 2 to 80 km or more, KLOOFING ADVENTURE - stunning kloofing outings, BIRDING, PHOTOGRAPHY, SAN ART VIEWING, STAR GAZING ( CELESTRON TELESCOPE ) , MOUNTAIN BIKING

Click to display the map
Clothing & Accessories:
Personal-camera, binoculars, torch, walking boots, sun hat and sun lotion, water bottle, vehicles- spare tyre ,( at least 1 ) air pump , check oil, water and petrol/diesel before starting on the gravel roads.
Health & Climate:
Summer day temperatures can be very hot, be prepared with a sun hat, light, white or pale coloured clothing, winter days are pleasant, nights very cold once the sun sets from around 4 pm till 9 am in the morning.
Given the resources available to Rob and his team the performance is very good. However, there being no electricity means that having a coffee is difficult for anyone not doing self catering. The 4x4 ride in from the Baviaanskloof is exceptional and should be on the bucket list of any person who enjoys what South African outdoors has to offer. The lodge is not a bad place to end after 3 to 4 hours of sheer exhilaration! Whist there get Rob to tell you about the 1000 year old yellow wood trees so easy to view if you know where to look.