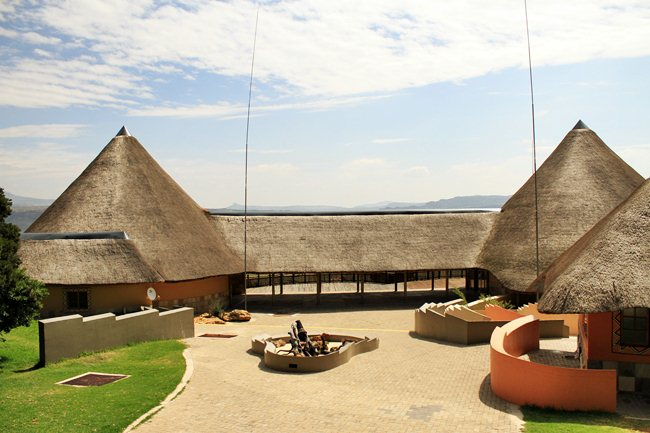 The
Basotho Cultural Village
nestles in the east of the
Golden Gate Highlands National Park
surrounded by huge sandstone mountains.
"The Free State landscape gladdens my heart, no matter what my mood. When I am here I feel that nothing can shut me in, that my thoughts can roam as far as the horizons." - Former State President Nelson Mandela wrote in his autobiography Long Walk to Freedom.
It is here where
Basotho Cultural Village Rest Camp
nestles on the eastern side of the amalgamated Golden Gate Highlands National Park. The camp resembles an 18th century Basotho Village. The surroundings take you back from the pathway of previous times to the modern days, here the Basotho lifestyle, architectural and hospitality is the order of the day.
The Basotho Cultural Village Rest Camp offers comfortable self-catering accommodation with splendid views where game viewing is practically enjoyed without the trouble of having to embark on a game searching journey.
The Camp also has communal braai facilities that are shared amongst families sharing the kraal and also private webber braai facilities for every chalet.
Kgotso! We greet You in Peace, come stay with us, dance to our rhythm, sip from our traditional beer, consult our Ngaka (Traditional Healer) and come to Lekhotla (the gathering place for men).
The tranquil and healing cultural heritage experience awaits you, Kgotso!! Pula!! Nala!!
Accommodation at Basotho Cultural Village Rest Camp
Rondawel (HK2)
- 1 bedroom with double bed
- Communal braai lapa
- Kitchen
- Veranda with Weber braai
- Wc and shower
Rondawel (HKD4)
- 1 bedroom with double bed
- 2 bathrooms, each with w/c and shower
- 2 bunk beds
- Communal braai lapa
- Kitchen
- Veranda with Weber braai
Basotho Cultural Village Rest Camp:
It is only 55km from Harrismith and the N3. It is sited along the Maluti Drakensburg Route only 350km from Pietermaritzburg, 330km from Bloemfontein and 320km from Johannesburg.
The village is only 42km away from the renowned Clarens, a tourist Mecca of the Free State Province through the scenic Golden Gate Highlands National Park.
Please Note
- Vehicle repair, medical, post office and police services at Clarens (17 km) or Bethlehem (± 60 km).
- Remember to bring a hat, walking shoes, sun block, camera, binoculars and wildlife reference books.
- Hikers must always carry sufficient water.
- Take cool and light clothing for summer and warm clothing for winter.
- Area prone to sudden weather changes.
Important Notice
1. Accommodation rates do not include
Conservation Fees
which are payable at the entrance gates.
2. Please ensure that you are familiar with the
Rules & Regulations
of National Parks before making a booking.
Other Accommodation
options in Golden Gate Highlands National Park:
-
Glen Reenen Restcamp
-
Highlands Mountain Retreat
Alternatively
Clarens Accommodation
options range from guest houses to self catering apartments.
Basotho Cultural Village Rest Camp - Golden Gate Activities:
Game viewing drives (self driven) – it is not only the game that one get to enjoy in this part of the world, one gets to enjoy rock formation, birds, grassland and the beautiful scenery that forms part of the Drakensberg and Maluti mountains. Blesbok can most frequently be seen on the plains surrounding Basotho Cultural Village.
Museum tours – visitors get to feel the Basotho experience by tasting traditional cuisine, getting to know equipments and weapons that were used then.
Cultural route, one gets afforded an opportunity to be taken through the Basotho culture and the way of living dating back from the sixteen century to date.
Herbal trail, visitors are lead through this trail in order to be educated about the medicines that were used and are still by the African Traditional Healers.

Click to display the map
The establishment can be better if restoration work can be kept up to date, otherwise the establishment is good and has a good knowledge base for our next generation and must not be let to deteriorate. I would definitely visit the place again however as indicated it must get restoration work done as a matter of urgency to keep and allow for new visitors.
Good day, we really enjoyed our stay at Basotho Cultural Village, the place is amazingly beautiful and cant fault it except for the bedding which was not clean other than that. its out of this world and thank you for the experience.
Very friendly staff, facilities are in excellent condition, strongly recommended and value for money!!
I recently stayed 2 nights and had a fantastic stay. The accommodation was very clean and well-supplied. Throw in some gorgeous views and scenery, and it was a great place to relax for a couple of days.