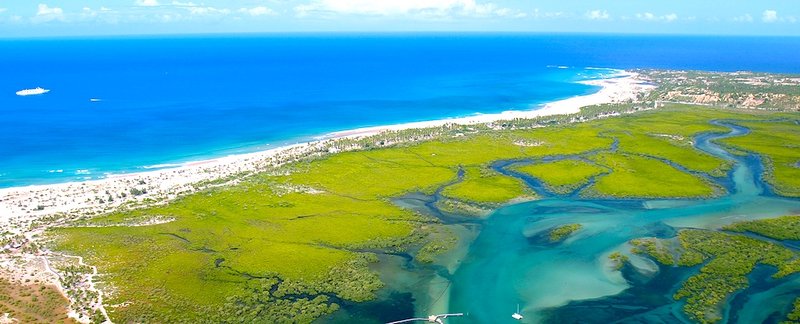 Often one gets disappointed when they are welcomed into their room for a well-deserved holiday in Mozambique. The common reed walls, cracked concrete flooring, local palm leaf roofing, no air-conditioning and paper thin walls allowing you to listen to your neighbour`s conversations - all relating to the unfortunate concept of property owners trying to `make a quick buck or two`.
On this note, we would like to introduce to you our exclusive 12 stylishly designed roomed Boutique Hotel, the
Barra Beach Club Boutique Hotel
. Wearing our 4 star badge with pride while reflecting 5 star services, come and break away in the all year round Mozambique sun and indulge yourself in dishes of seafood in traditional Portuguese styles. We understand the meaning of holiday - relaxing in luxury. Welcome to most exclusive and luxurious Barra has to offer.
Barra Beach Club Boutique Hotel accommodation:
We have 4 luxury room types. All rooms come standard with Air-conditioning, mosquito nets, DSTV, en-suite bathroom, laptop safe and tea/coffee stations.
Mangrove view and Sea view deluxe rooms are based inside the main lodge itself. With either a choice of twins or queen size beds, these room have a view of the majestic Mozambique sunrise over the sea or a magnificent sunset view over the unique mangrove lagoon.
Our brand new Ocean deluxe suites are situated, literally, on the beach. With a semi outdoor shower, queen size bed, your own private garden, outdoor lounger and own mini bar fridge... we could have almost called this our honeymoon suite.
As always, the best for last. Our honeymoon suite, with your own lounge, king size bed, private garden, outdoor shower and private access to the beach. Its no wonder this has been newlyweds hotel destination of choice.
Activities available around Barra Beach Club Boutique Hotel:
- Fishing
- scuba diving
- snorkelling (with seahorses)
- surfing / kite surfing
- stand up & paddle
- kayaking (sea and mangrove)
- local dhow trips
- horse riding
- sunset cruises
- Inhambane city tours
- quad riding
- hiking
- mangrove tours
- beach braais
- organised island tour & sleep out (NEW)

Click to display the map
Clothing & Accessories:
Bring out those colorful numbers and get festive in true island verve. Its summer all year round. Maybe a thin jersey or wind breaker for those tropical 10 minute downpours. Dinner is a comfortable, smart-casual dress code.
Health & Climate:
Unfortunately this is a malaria risk area and something that can not be over looked. We unfortunately don't advise toddlers. Peaceful sleep seems to do the trick. We do spray and fog the property for your comfort.