Get that perfect blend of AVANI style and comfort in the heart of Zambia. AVANI Victoria Falls Resort, a sought-after Livingstone hotel, gives you the perfect spot to work, rest, stay, and play with the iconic Victoria Falls at your doorstep. Chill out with time by the pool or head out to explore everything Livingstone has to offer. Come back for a great night's sleep. It's all the details that matter… done well!
Please note:
Over a weekend you are required to stay a minimum of 2 nights.
Accommodation at Avani Victoria Falls Resort
Unwind in any of our 212 colourful rooms and suites across 3 different categories that offer some of the best of Zambia hotels accommodation. Stay and play in the perfect spot with our AVANI Rooms. Spread out with the extra space of our AVANI Family Rooms or check out the added comforts of our AVANI Suites. Each room features our complete range of essential amenities, contemporary design, and full connectivity. Every room also gives you views of either the lush African bush or the welcoming pool and gardens that sit in the heart of the resort.
Avani Room
The 106 AVANI Rooms of our Livingstone resort offer the perfect space to rest, work, and sleep in relaxed African style. Modern and welcoming, each space comes with a full range of amenities to keep you comfortable and connected. From tea and coffee making facilities to satellite television and full WiFi it is easy to stay connected or get your day started after a great night's sleep. Step out onto the balcony or directly out onto the lawns, for some fresh air or order in room service anytime day or night.
Avani Family Room
Our 102 welcoming AVANI Family Rooms give you just that little bit more space for added comfort. Styled with African charm, these modern rooms are the perfect space to work, rest, or play. Stay connected and entertained with in room WiFi and satellite television. Kick back after a day's work, take in nature, or brew a nice cup of coffee or tea on demand while we make sure everyone get's a great night's sleep.
Avani Suites
It's the suite life in any of our 4 AVANI Suites. Spread out in modern comfort with purpose designed lounging and dining spaces. It's easy to get a good night's sleep, enjoy a private in-room meal, or relax after a day out. Each suite features our full range of amenities from satellite television to tea and coffee making facilities. Stay in touch with full WiFi connectivity in each of the comfortably modern suite spaces of our resort in Zambia.
Dining at Avani Victoria Falls Resort
Find plenty of tasty bites and cool drinks at AVANI Victoria Falls Resort. Find real Zambian dishes and international plates on offer at The Theatre of Food. Get light lunches and drinks as you soak up the African sun at the Poolside Grill and Bar. Chill out at Crocodile Café with coffee, pastries, and light refreshments or find more great options for lunch or dinner at Squires, both located in the Falls Entertainment Centre nearby. During lunch you will be entertained by the traditional Marimba Band. You can also eat in anytime with international favourites from our 24 hour In-Room Dining menu.
Facilities and Amenities at Avani Victoria Falls Resort:
- Double or twin beds
- Bath and shower
- WiFi internet access
- Tea and coffee making facilities
- In-room telephone
- Hairdryer
- Fridge
- Closed closet
- 220V/110V electrical points
- Personal safe
- Satellite TV
- Individually controlled air conditioning
- Insect repellent devices
- Writing desk
- Private balcony (For upstairs rooms only)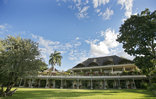 Guest Rating:

(3 reviews)
A warm Zimbabwean welcome awaits you at the privately owned Ilala Lodge Hotel, built on the closest site to the majestic Victoria Falls.
From:
R2535.00
per person sharing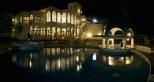 Its unique Moorish design immediately suggests that guests will absorb memories of a lifetime! Nestled in an amphitheatre of virgin rain forest, it is within walking distance of the town centre (0.5km), is only 2km from the Victoria falls themselves.
From:
R975.00
per person sharing
The extensive conferencing facilities also make it a popular venue for incentives groups. All this coupled with the fact that the hotel is located within a 5 minute walk to the Victoria Falls makes this hotel the perfect location.
From:
R1470.00
per person sharing
For the more discerning traveller in search of luxury, extravagance and sheer indulgence, there can be no better place than the Royal Livingstone Hotel. This earthly paradise provides a serene haven at the most magical place in Africa - Victoria Falls.
From:
R4550.00
per person sharing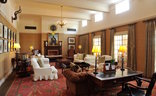 Guest Rating:

(2 reviews)
The hotel is situated on a World Heritage site surrounded by lush gardens and rolling lawns it is just a ten walk from the Victoria Falls. This is the one hotel that can truly claim to be unique.
From:
R2945.00
per person sharing